Clipping completely changes horse's color! Black to dun/buckskin??
---
I always thought my Mustang was black that faded to a seal brown. But he's never faded quite like most other blacks or browns. Blacks only fade in the summer, and very minimally. Browns can be almost solid black when their new coats grow in but they still always have that telltale brown area around their muzzles. Brego gets a little gold around his face and then it goes away. And he's always shown odd patterns and colors in odd places and tends to fade more gold than red.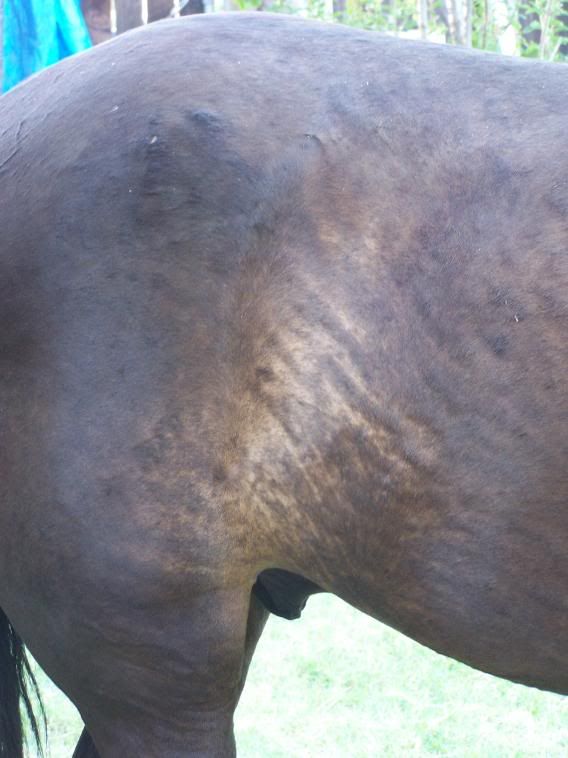 Someone once suggested that he might be a very sooty dun or possibly even buckskin which I thought was ridiculous considering when he grows in a fresh coat he looks like a true black.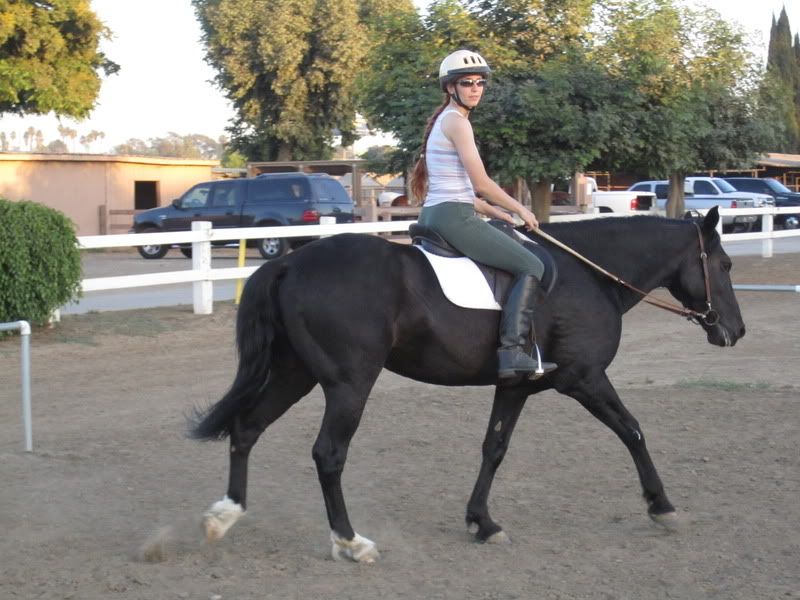 He's so dark that it's hard to really look for any of the telltale signs of the dun gene, but he does have some of the more classic markings like the wide dorsal stripe (which I regrettably don't have any photos of) and face mask.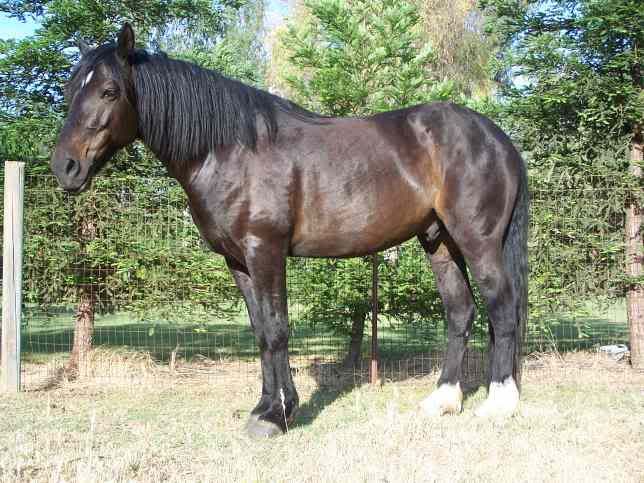 I still have no idea. I think the only way to know for sure is with a blood test.
HOWEVER, I remembered a photo I'd taken a long time ago to document his freeze brand. It was winter and his coat super thick making it near impossible to read the brand, so I clipped just the small area. I hadn't thought anything of it at the time but now that I look back at this photo...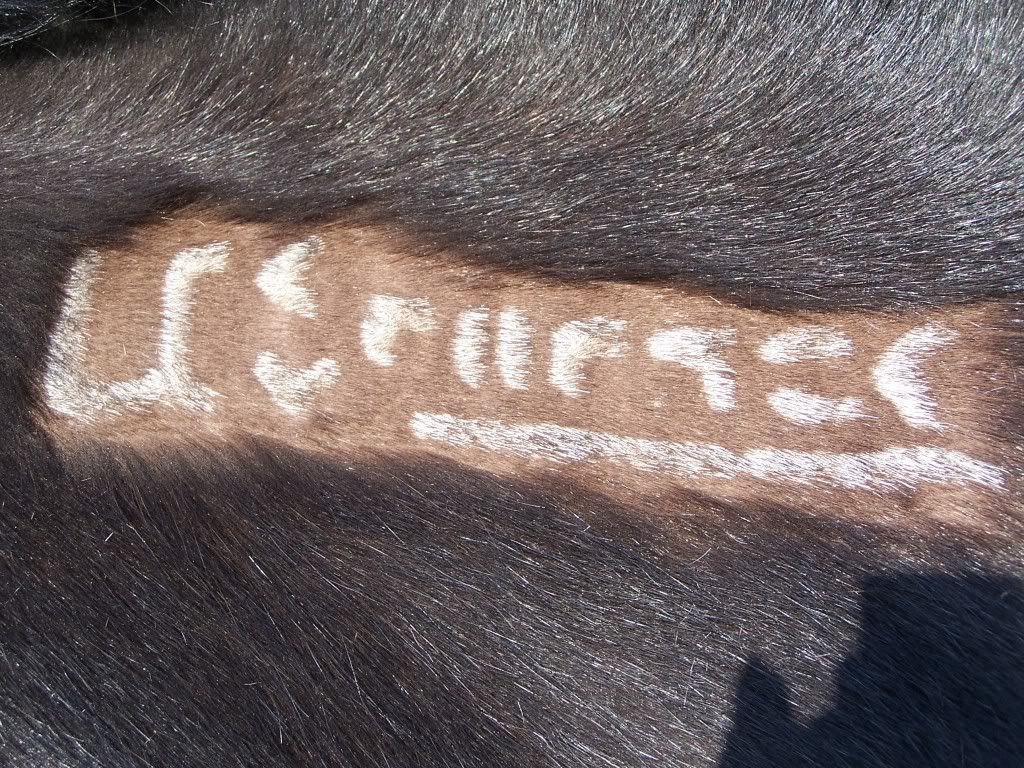 Do blacks and browns normally clip to that color?? I'm really curious to see what he'd look like if I did a full body clip on him next winter.
Yes. He is brown. Not black that fades - black fades along the top of the body first, not in the indicator areas for brown - muzzle, flank, eye etc. Clipping can dramatically change the appearance of a horse. That's why we never decide what colour they are from a clipped photo.
---
Mods, grant me the serenity to see the opinions I cannot change, courage to change the ones that should change, and the wisdom to spot the trolls.
This is a brown horse:
Browns are easy to tell from blacks because they have that very easy-to-spot brown area above their muzzles. My horse's face is black. Occasionally when he's very faded he gets a few lighter spots on his face but never to this degree.
EDIT: I thought I'd add that another color possibility is smoky black. Many of them look like true blacks but show funny reddish or gold-ish spots.
---
Last edited by bagof4grapes; 05-02-2012 at

06:06 AM

.
That horse is also brown. Your horse is too. Black horses don't fade in the areas your horse has until they have faded in other areas. It's simple really - the sun has longer to "touch" the top of the horse than it does the sides. Fading starts along the topline and works downward. It does not start in the soft points.
They also clip differently. This horse is black. The difference is fairly clear.
---
Mods, grant me the serenity to see the opinions I cannot change, courage to change the ones that should change, and the wisdom to spot the trolls.
You're putting words in my mouth. I don't think my horse is black. I also very much doubt he is brown because of the reasons I already stated. I've watched him go in and out of seasons and change colors many times over the past seven years. My first horse, a QH mare, was a true seal brown. I know what seal browns look like. My current horse, the Mustang in the photos above, has never looked like her.
Here is what a clipped seal brown horse looks like:
And another:
Neither of them come even close to the bright gold under my horse's coat.
He's neither a brown nor a black.
Read the first line of your first post and tell me why I assumed you think your horse is black before you suggest I am putting words in your mouth please.

As far as brown, it is just like other colours in that there is a lot of natural variation in the shades of various horses. Just because a horse is a different shade to the one you knew of does not mean it is not the same colour.
Posted via Mobile Device
I didn't think I'd have to spell it out in black and white but maybe I should have. At one point in time, yes, I thought he was black or seal brown. But I certainly think I made it quite clear that I no longer think that.

Now, can we please move on from the pointless black/seal brown thing? I want other suggestions. I'm curious to see if anyone else has ever had a horse that clipped to this color from almost black.
Your horse is not dun. He is a brown. I am with Chiilaa on that one. Not every horse will clip to the exact same shade. Clipping should never be used to determine a horse's color.

BTW color testing is not a blood test. You pull hairs and they test the roots/DNA testing for markers and genes.
Quote:
I want other suggestions.
Then you might need to ask elsewhere. Here, we deal with fact and not fancy. If you wanted to be lied to, then say so. Your horse is brown. That's a simple fact. There is NO other indicator of any other possible colour. It is what it is. There is nothing wrong with brown.
---
Mods, grant me the serenity to see the opinions I cannot change, courage to change the ones that should change, and the wisdom to spot the trolls.