I know this is a crappy picture, because my phone lense is scratched on one side
but it's the horse I was referring to and a good comparison of black and brown. LOL
All three of these are branded mustangs. The "dead" (lol) one and the one on the left are both brown geldings (notice the muzzles and flanks). The filly on the right is black. The dead one is the one who currently has the golden dapples coming in on his girth.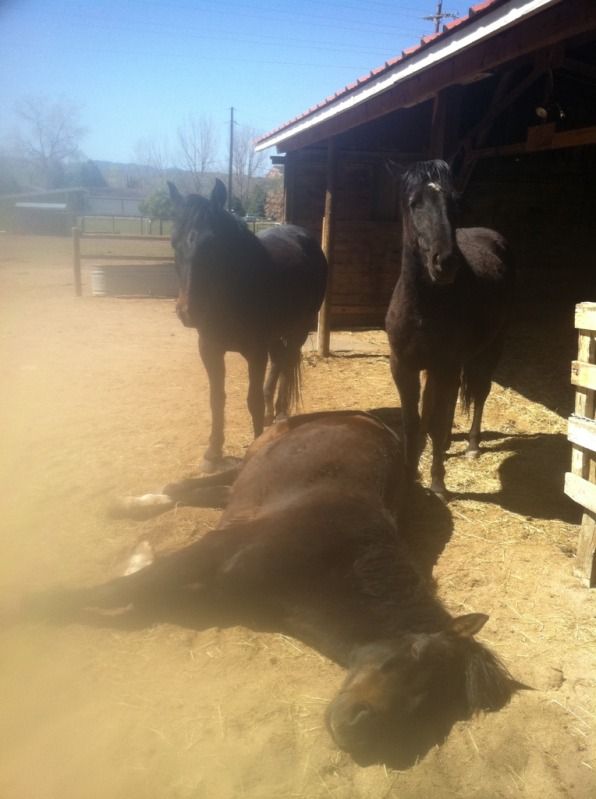 The one on the ground is odd because he has the mane of a curly horse LOL
Also your horses dorsal stripe might just be counter shading.
---
Last edited by Bridgertrot; 05-02-2012 at

04:04 PM

.
My mare is brown, who almost looks black in the spring. But in the summer she gets SO light that she had a golden/buckskinish color. I hardly even recognized her. I'd say your horse is brown. I love brown horses because pretty much every season you have a horse with a different color.
Posted via Mobile Device
Your horse is NOT a dun. There's is a horse at my barn that clips to the EXACT same colour and he is most definitely a brown horse. I believe he has been colour tested as a brown as well :).
Here is a bay horse who has also been clipped down to that colour.
Well, if he was a dun but his top coat was too dark to express it...I wonder if giving him a body clip would show his leg barring and dorsal stripe?

I find color genetics fascinating, but he is his color no matter what it's called! A rose by any other name would smell just as sweet! And his color is stunning, no matter what it's called. I love his golden tones!
I apologize if it has been mentioned previously in this thread; but fyi, ALL horses except greys clip out to a different color at certain times of year depending on the length of coat, because the pigment in the hair shaft concentrates at the end of the hair shaft as it grows.

So black horses usually clip out to a mousy matte grey, bays clip out to a weird gun metal grey, chestnuts clip out to a weird pale orange, etc.

If you see a clipped horse that's retained vestiges of it's original color, it's because the owners clip frequently to minimize the color change, or that the timed the clip right as fresh coat was coming in.

So I'm not really sure the color of a recently clipped horse is a reliable indicator. New fresh coat growing in, before it can be sun bleached, might be a better indicator.

(The exception to this is foal coats - we used to clip patches of foal coat in order to determine actual base coat color for registrations.)

My favorite story about this is once I had a really cute large children's pony, mostly Welsh, for sale that was true black with some chrome. Gorgeous and flashy, looked like he was wearing a tuxedo. Had a 4" long Welsh pony coat.

Showed him to first time buyers, and when the came for a second look, I told them I was very glad they had come back, that I had clipped the pony and he no longer looked like a stuffed animal, you could now actaully see his confo.

I pulled him out of the stall, this gorgeous, slick, typey thing, but definitely matte dark grey, not black; and they looked at me like I was they worst crook on the planet and said "YOU MEAN THAT WASN'T HIS REAL COLOR?????"

In his case, yes, black WAS his real color.

But I will never forget the look on their faces because they thought I was playing some heinious trick on them.
---
Last edited by maura; 05-02-2012 at

06:24 PM

.