Rabicano causes roaning on the flank area and a coontail. Any horse that has a coontail has rabicano.
Here is a very loud (Arabian, no less) rabicano:
Coontail
Less loud rabicano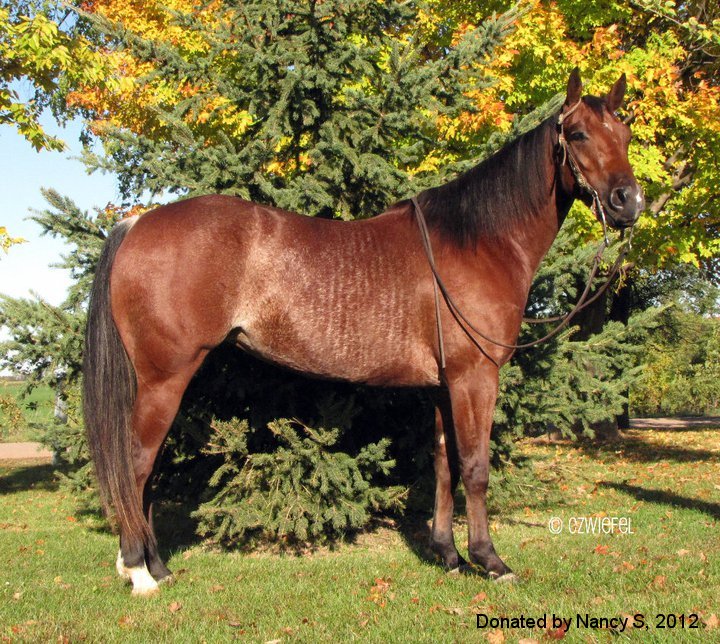 Also common for rabicano to cause "striping" on the barrel that is mistaken for brindling.
Rabicano is common in a couple of QH lines, particularly those bred for cutting (Ie, the Smart Little Lena line).
Haven't seen a buckskin or pinto Thoroughbred? -gasp-
How about a two-in-one from a breeder in my state?
La Toute Premiere - frame buckskin TB mare
(
supposedly
the world's first [recorded, at least] dilute frame TB)
---
ʀ ɛ ɴ ø ,-------------
"Who rescued who?"
---------ċ ᴀ ʀ ʅ ʏ
Grabby hands, lol
Posted via Mobile Device
Quote:
Originally Posted by
DancingArabian
View Post
Appaloosas are their own breed and are a stock type.
Foundation Appys are a breed, but are not stock horses. Appys were being bred long before there was any "stock" in North America or before anyone ever thought up a Quarter Horse, and were bred for stamina and hardiness.
The remainder of Appys are most definitely NOT a breed. A horse that is 5% Appy and 95% QH and a horse that is 5% Appy and 95% Arab and a horse that is 5% Appy and 95% TB cannot possibly all be members of the same breed, yet can be registered as Appys by ApHC as long as they have a lineage of ApHC registerd "Appys". Due to ApHC's registration policy, it is not a breed registry nor are Appys a breed, obviously, other than those that are of predominantly Appys breeding...