she must carry a copy, because she is an overo paint, even if she is half tb, right? so, i need to talk to the studs owner again, cause like i said we didn't get far with his color test conversation. all this makes my head spin.
I'd say that if you are still learning, as you say, to not make statements like you did in my previous quote. If you looked into lethal white like you said, you would know your mare is not homozygous for frame. I'm not trying to be rude or mean but it's a touchy subject and would hate to see another foal turn out lethal.

Your mare would be heterozygous for frame I would assume since you say overo. I haven't seen any pictures yet so can't say for certain.
Posted via Mobile Device
Found the pictures. I'd say she's probably frame. She's got some other white patterns happening as well. If the stud tested positive then get her tested as well just to be sure. I'm fairly certain she is though.
Posted via Mobile Device
IMPO I wouldn't even waste testing her. She is a frame carrier. Make sure for a FACT that the stud is negative for frame.
And some lines of TB do carry and express the frame pattern.
Quote: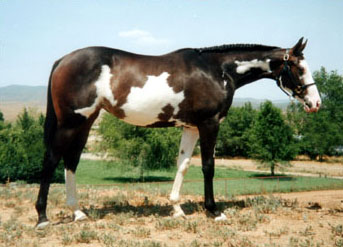 This lovely gal is Quit Starring, the 2002 daughter of Racey Remarque and She's Got a Look, by Big Leaguer.
Pinto Thoroughbreds
To clear things up a little bit for you-
"Overo" is a very broad term that covers a number of pinto patterns: splash, sabino, frame, dominant white... basically everything but tobiano. Frame is the one that most people are concerned about from a breeding perspective because it is lethal when it is inherited from both parents. So, if both parents carry one copy of frame (heterozygous), the foal has a 25% chance of inheriting a copy from both of them (homozygous) and he will be born lethal white. The reason for this is that the intestines are not fully formed when two copies of frame are present, and the foal dies within 72 hours.
From your album, I think it is very likely that your horse carries a copy of the frame overo gene (and I think sabino, too... but that one's not lethal, just fun to know
)
So, it's VERY important that you make sure you don't breed to a stallion who also carries the frame gene. And don't take the owner's word for it- ask to see the official report.
Thank you guys :), i'll definitely ask to see his test papers, if she even really has them, :/. I met her and the horse at a local horsie get together, and just got her number and whatnot since i don't plan on breeding til march or even next year.

I had heard she was sabino, i know shes overo. If i put up more pictures could somebody tell me what else may be in there? just for fun?

either way, i can promise you all i dont want to risk a LW baby any more than any of you do. I love my mare, and plan on keeping her baby til the end of its life. (and i'm only breeding her once). Shes kind of my fiances snuggle bug, but hes extremely nervous of young/energetic/rambunctious horses (old incident left him jumpy), so when she mellows up a bit she'll be his, and hopefully, by then baby will be ready to start and train. I'm good with the practical stuff, the genes and theories throw me off. :/ but i'm trying.
Anybody wanna take a go? Shes a little thin here, this is right after i left her in the care of a very bad lady for a couple of months. shes gained quite a bit since then, as you can see in some of her other album pics.
---
Last edited by AnalisaParalyzer; 11-06-2012 at

01:47 PM

.
Definitely frame. Sabino. And probably a splash gene too.

Do NOT breed her to another frame overo carrier. Ever.
Posted via Mobile Device