Colour explainations please!
---
One of my friend's mothers is starting a miniature pony stud. We got talking about colour genetics one day and she said her almost-black brown pony was a "dark dun grulla" or something like that. I have never heard of this colour. The pony does not have a dorsal stripe, but she said the reason "Muffin" isn't brown is because she has cream coloured hair inside her ears. Now, she does have this, but could it be sun bleaching or something equally as explainable? The pony is too dark to tell if she has black points, but she isn't black.

Also, her dam (which my friend doesn't own) was apparently "caramello"? Is this a mispronunciation and she actually means cremello, or is caramello a seperate colour all together?
---
Quote:
The half-halt is also used as a "hey poneh, I am gonna ask you to do something in a second, is yew awake?".
Most likely they ment cremello, sounds like she/he(? you said stud, but then said she, so we're just talking about one horse right?) is a smokey black, CAN'T be dun w/out the stripe, any form of dun including grulla.
This is written oddly..

Do you have a picture of said horse? We could probably determine its actual colour pretty quickly with a picture.

I can tell you now though that if it doesn't have a dorsal stripe, it isn't dun of any kind. And "Caramello" is not a colour. It's cremello.

What colour is this pony's muzzle? Is it dark or lighter coloured than the rest of its face?
I meant the owner has a miniature stud as in horse farm...the horse in question is a mare. She (the owner) won't let me upload a picture because she doesn't like the internet, but the mare's muzzle is the same colour as her body and she does not have a dorsal stripe. The only part of her that isnt a very dark browny-black colour is her ears, which are cream on the inside but the dark colour on the outside. I tried to explain it as best I could haha. I tried to tell the owner she can't be dun OR grulla OR "caramello" but said owner insists she is this grulla dun black weird brown colour that she said. I had never heard of "caramello" so I am assuming they meant cremello. If that is true, the sire was brown and the dam cremello, she must be a dilute of some sort?
---
Quote:
The half-halt is also used as a "hey poneh, I am gonna ask you to do something in a second, is yew awake?".
I'll try pictures for you to compare with to try to get this, but I feel like the owner won't believe us either way. At least you might have a better idea. I have no idea what the owner is describing as the mare's colour.
Does she look anything like this? If not, what about her is different?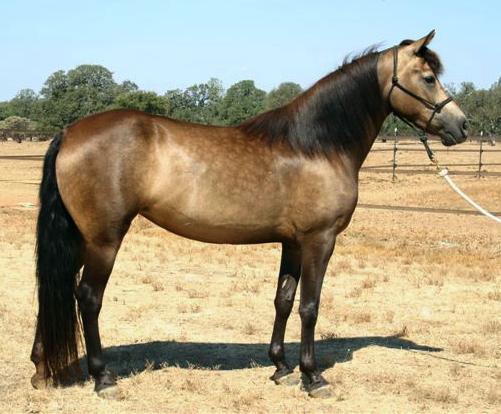 And which horse is cremello? The mare in question's dam?
Yes, the dam is cremello. She looks nothing like that picture you put up. I also noticed, she DOES in fact have a barely-noticable dorsal stripe. Do you reckon she may be black/burnt buckskin?
---
Quote:
The half-halt is also used as a "hey poneh, I am gonna ask you to do something in a second, is yew awake?".
Well, the picture I put up is a sooty buckskin and if she looks nothing like that picture then no. I'm going to try to keep posting pictures to see if we can figure it out. Since her dam was a cremello, then the pony has the be some kind of cream dilute. I'll find some pictures.
This horse has a dorsal stripe. It's not visible in the picture though.
And this one has lighter hairs inside its ears. Is it sort of like this?
Is there any way your friend would let you PM me a picture of this pony? That way, only I would see it and her pony wouldn't be all over the internet for anyone to see. Because this could easily take a while just going by guess and check with pictures.
---
Last edited by Poseidon; 03-24-2011 at

10:35 PM

.
That Poseidon or OP could you look at some horses online and maybe link the pictures here that are similar to the color of the pony?
That would also be very helpful.
Also, does the dorsal stripe look like it has been drawn on, like a wide texta? Or does it have more of a 'spray paint' kind of look to it?
---
Mods, grant me the serenity to see the opinions I cannot change, courage to change the ones that should change, and the wisdom to spot the trolls.