Quote:
Here is a picture of my two tobiano's out of my stud.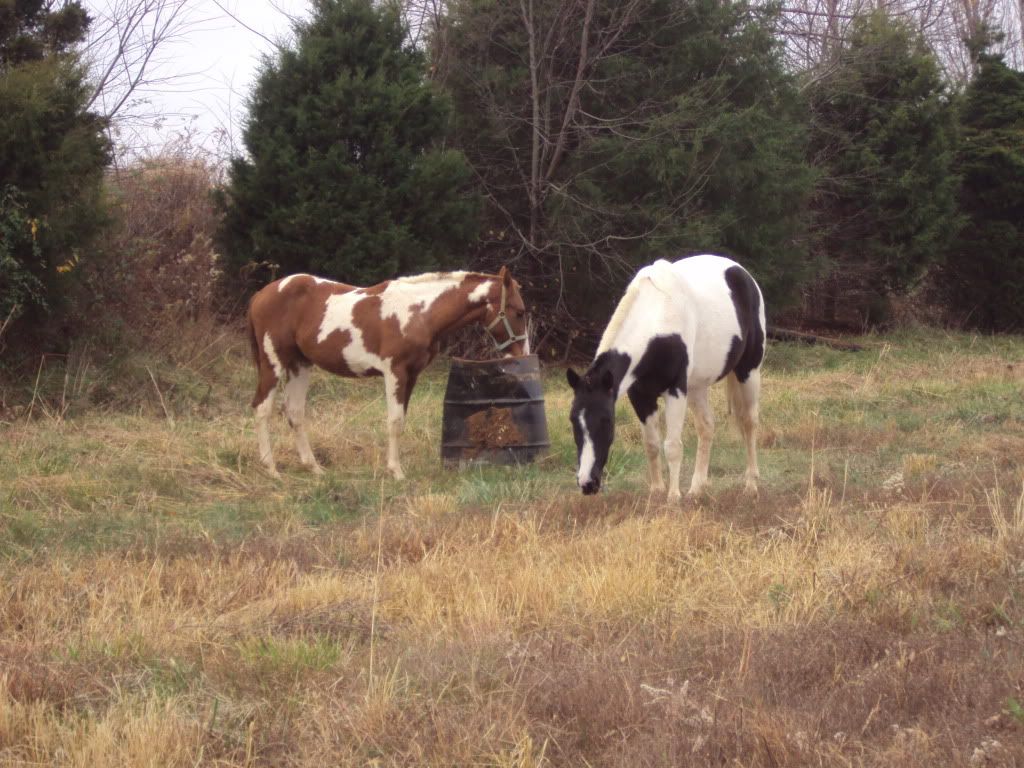 :P sorry coulnt resist !...
So he is a tobiano? Is there anything else to the color coat name?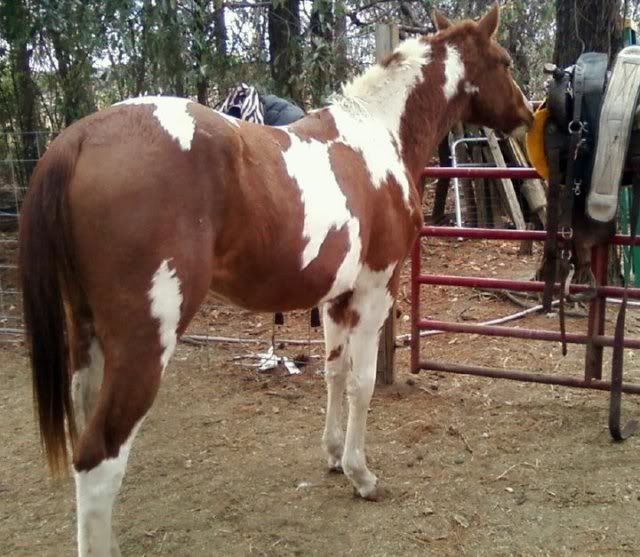 Yes, Lacyloo, he would be a chestnut tobiano.
He will be a sorrel tobiano. And most tobianos have two toned mane and tail. The reason why he will be sorrel Lacy is because Sky and Cinnamon wee both sorrel.

Yes guys Lacy has a foal out of my stud. He is by far the prettiest of Sky's babies ever foaled.

Most of the beautiful markings found on paints are mostly found on Tobianos at least in my opinion. Hence the reason for the precious angels on his sides.
Sorry pet peeve of mine coming through.... NOTHING is "out" of a stud. If you have a foal that came "out" of a stud you're a miracle worker. It is always by a stud and out of a mare.


Lacy - chestnut/sorrel same thing genetically. Your horse is red based tobiano. There is always the possibility for frame as it can and does hide.



Also, technically any tobiano with face white is tovero. Tobiano alone will not put white on the face. Confused yet? :P
My stallion is a registered tobiano. He is not tovero. His registered name is Pocomoonskyeyes. Yes even APHA said that they can have blazes, stars, stripes, and the normal markings that you find on most other breeds.
*facepalm* Yes if you go by the registries he is a tobiano. So is my mare. Genetically they are carrying some sort of overo gene that causes face white. Tobiano in and of itself does not cause face white.
I will agree there I guess not sure though. I know when we had him registered we took pictures up close of his face because the white goes under the jaw but APHA told us nope he is a tobiano. His sire is overo dam was tobiano.

Sky has produced solids, tobianos, and toveros.
4 solids, 5 tobianos, 2 toveros.

The solids all of them have the spotting on the coronet band. We are in the process of having QT genetic coat testing done. I believe that Sky is producing what APHA considers slipped tobianos.
---
Last edited by equus717; 04-01-2011 at

10:06 AM

.
Yes, according to APHA that would be tobiano. What the genetics say is something different.
like I said in another thread, i would never trust what the registries say a color or pattern is 100%. The registries are to far behind the times when it comes to what is causing colors/patterns.
Thank you NdAppy! How registries are willing to register, often has little relationship to exactly what colour a horse is. Most registered as Tobianos, carry Splash and other colours, which make markings on the face etc. A true Tobiano, has a solid head.

In Gypsies, our Tobianos are really not a true Tobiano, yet we register them as Tobianos. I have seen a few 'trues', but not many exist in any breed.

And thank you again, for bringing up the 'by' and 'out of'. Still amazes me that people who breed, seem not to understand this.

Lizzie
Quote:
And thank you again, for bringing up the 'by' and 'out of'. Still amazes me that people who breed, seem not to understand this.
Well....the foal is originally out the stallion. Maybe that's their logic.