I don't think logic has much to do with it.
Lizzie
just to throw a wrench in it there's Tovero which is both Tobiano and Overo traits.
Example: my two year old, Fathom, who's Tovero but HOMOZYGOUS Tobiano! (both parents Tovero)
here she is head on walking with my splash white/frame/sabino mare;
Pinto patterns are one of those things you just have to learn to spot. My advice is to learn tobiano, and just know everything else is overo. Tobiano is easiest to learn, example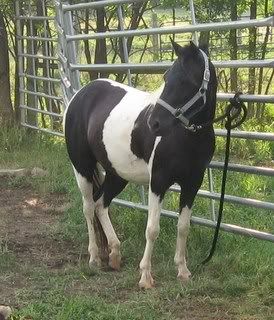 common characteristics, see the spot on her chest? The spots on her flanks? And you can't see it, but a two toned tail (white on top, color on bottom) are tobiano traits, also solid heads (stars, strips, blazes, are all fine, but no bold or apron faces, and blue eyes are overo traits). She's pretty traditionally marked, so I'll show an example of one that is minimally marked,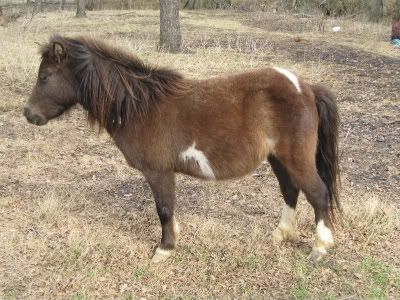 This one would be harder to learn to spot becaue she's so minimally marked, but the white feet, higher in back, and the spot on her butt that crosses to the other side are good indicators, and I've seen some w/ just a diamond of white over the withers.
Some examples of overos,
Both these are minimally marked, but thier faces give them away,
Need a better pic of this one, he's abit louder then the other two,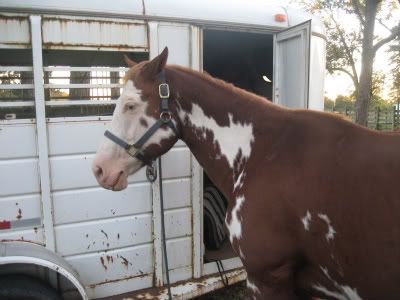 And then here is a tovero,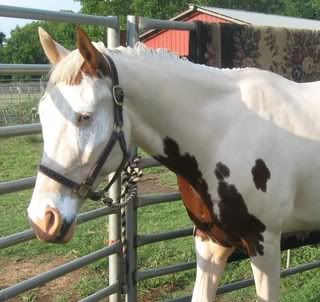 I consider this guy a medicine hat, but not really sure he qualifies w/ one ear not being completely white. To be a medicine hat they just need a 'hat' of color over the ears, the body can be any color as long as the head is white and ears are colored.
And just a note because I expect to get flack over it, I know they are now saying ANY white markings are some form of pinto, blazes, stars, snips, socks, etc., but as far as I'm concerned those are just normal markings and a tobiano can have them, I don't consider solid horses pinto because of these markings either. I love all the colors and patterns, but I think that's complicating things abit to much!
Love your Fathom. Certainly a maximum expressed Tobi. We see a great many marked like that in Gypsies.
Looks like with his black moustache and halo around his markings, she has Splash and Sabino going on there too. I also love her little black eyebrow.
Here's a pic of a young Gypsy Horse Colt. He is the opposite of your horse.
In Gypsies we don't often speak of Overo and Tovero. I think that is more known in Paints. So far, we have never seen a Frame Gypsy. Even though they are not true Tobianos, (ie. most have white somewhere on their faces) we call them Tobiano. This fellow has one little white eyebrow. Abviously a minimally expressed Tobiano. Like most Gypsy Horses, he probably has Sabino of some kind.
It helps to think of these spotted type horses, as being a basically (for example) black horse, with a white T shirt full of holes placed over
it. According to how many and large the holes are, designates whether it is a maxium, medium or mininally expressed horse.
Not all Tobianos have chest chields either, although most do. Lack of a chest shield, indicates Splash as does a coloured moustache on a white base. Halos around the colour, indicates sabino, as does white creeping up the legs, especially rear legs, with ragged outlines.
Lizzie
That gypsy is gorgeous!
---
You say room, I say stall. You say mall, I say barn, you say shopping, I say riding. You say high heels, I say steel-toe boots. You say boys, I say stallions. You say pedicure, I say farrier. Anything you say, I say horses♥
BTW, if you're into Paints, you can email or call the APHA and they will send you (free) a nice set of posters you see on their web site (e.g Paint Horse Patterns, Paint Horse Colors, etc).
---
On the sixth day, God created the Quarter Horse.
On the seventh day, he Painted the good ones.
Quote:
For what it's worth, not all Paints have patterns. My mare's a Paint, but she's solid coloured. They used to be called Breeding Stock, but are now called "Solid Paint-Bred Horses".
Mine too! :) sire was sorrel overo and dam was a buckskin QH :)
Just ignore me on her back lol...I'm not blocking any markings ;)
---
"The times when you have seen only one set of footprints in the sand, is when I carried you..."
Here is the picture of my stud.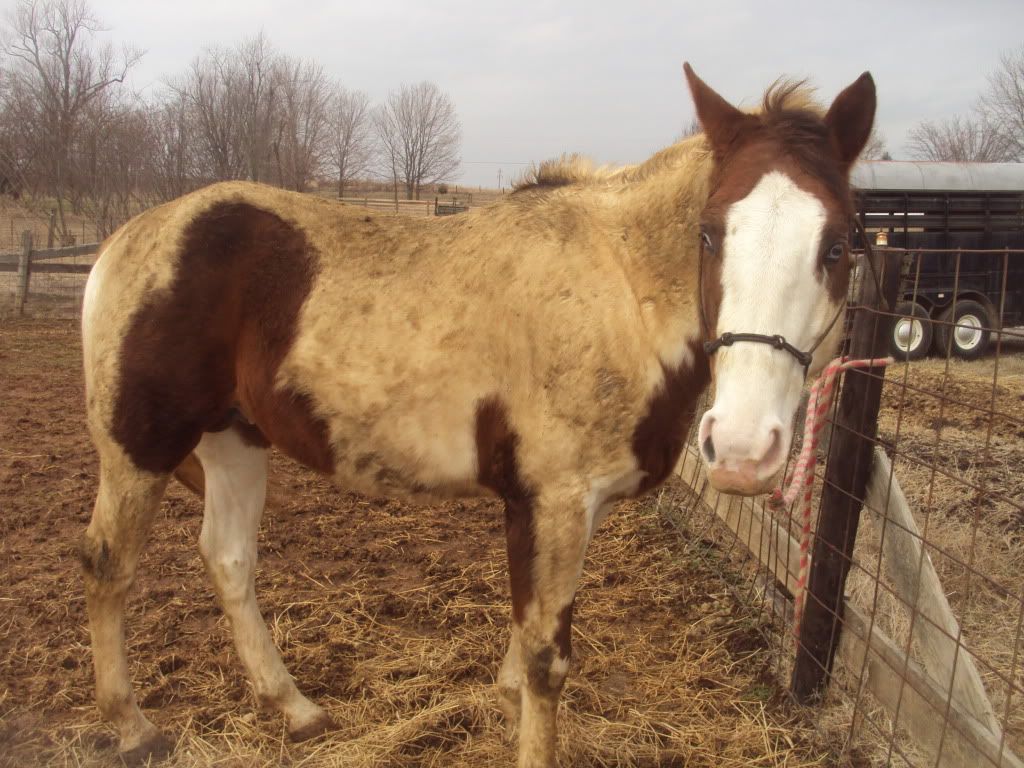 He is dirty in this picture.
He has a half blue eye. He has only passed the blue eye on once to a filly that was marked up like him but with two blue eyes.
Quote:
Originally Posted by
Hoofprints in the Sand
View Post
Mine too! :) sire was sorrel overo and dam was a buckskin QH :)
Just ignore me on her back lol...I'm not blocking any markings ;)
Abby's dam was a buckskin overo and her sire was a palomino QH. Sandy and Abby have almost the same markings too. Same pastern, but Sandy's whole face is white. Abby just got a massive blaze.