Do babies change color?
---
Hello. My mare just dropped her foal on July 10. He looks like a brown, but he has black across the top of his back. My neighbor says he will turn black & my mare has produced black foals in the past (before me). His sire is black & his dam is bay. I'm kinda new to horses & this is my first foal. Can they change color?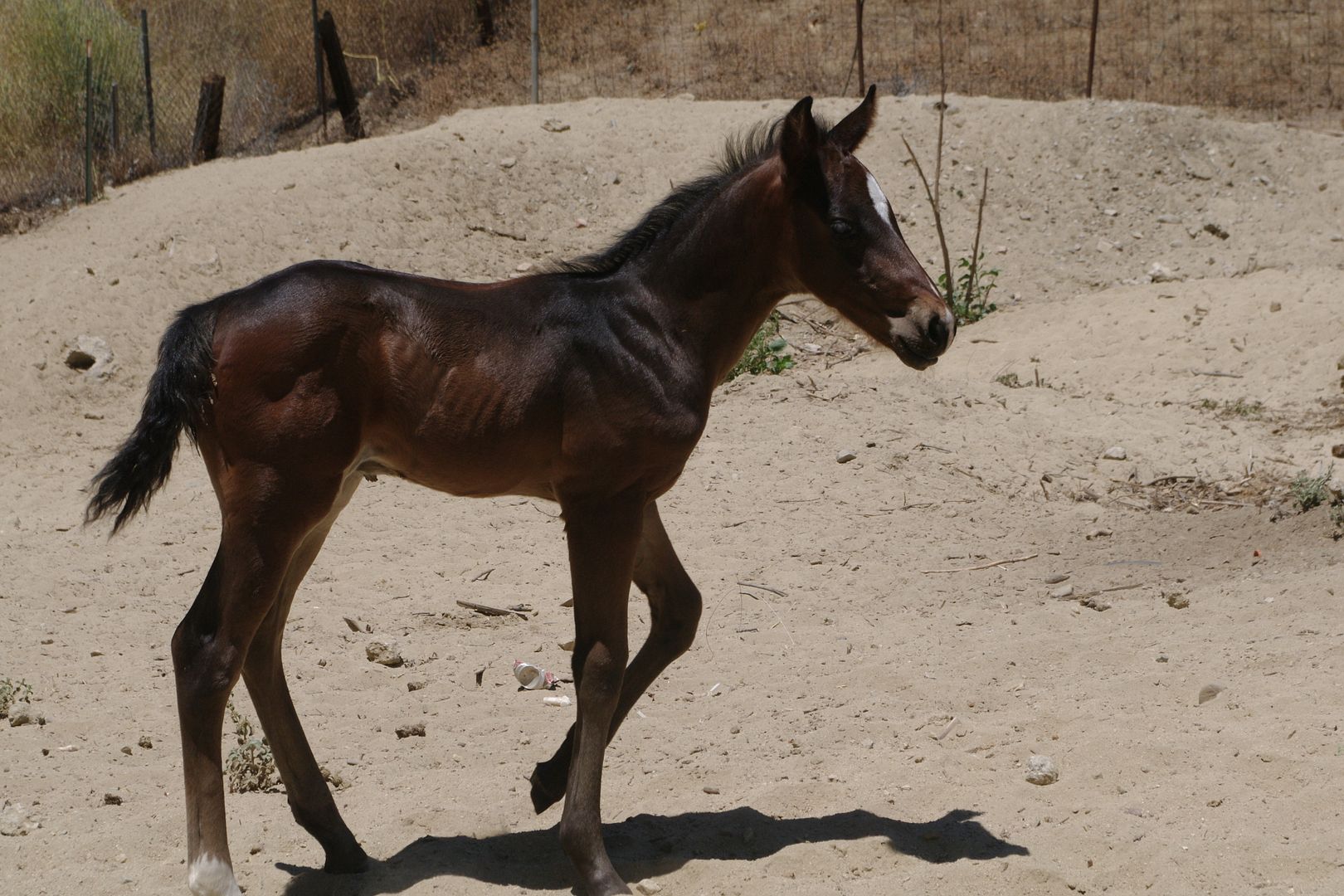 ---
Last edited by ThaiDye; 07-17-2011 at

06:02 AM

. Reason: picture didn't load
They sure can! As they loose their foal coat they will start to show their natural color. Greys are born black of dark chocolatey brown. Pintos are ususally born pinto. Bays can change colour as well, some I know have been born black. Your boy, well I think he will be a bay/brown. Hard to tell at this early stage but if he has a black around his eyes, a dorsal stripe and darker legs, he will probably be bay.

Very nice looking colt though!
---
Cross Country- The act of hurling yourself and your equine partner at a stationary object with poise and grace while attempting to survive...

They can and do, as PintoTess said
In terms of your foal, again, as PT said, I would stick with dark bay or brown. Black horses are usually born a silvery through to steel grey colour.
It can be as light as this:
Through to this dark:
Foals that are born 'true' black are usually going to turn grey.
---
Mods, grant me the serenity to see the opinions I cannot change, courage to change the ones that should change, and the wisdom to spot the trolls.
---
Last edited by Chiilaa; 07-17-2011 at

06:16 AM

.
Okay, so then my neighbor's filly, born 8 days earlier, is actually a grey and will get lighter as she ages, right? Her sire is white (grey) & her dam is a buckskin (I think-she has a dorsal stripe, but no leg stripes like my dun).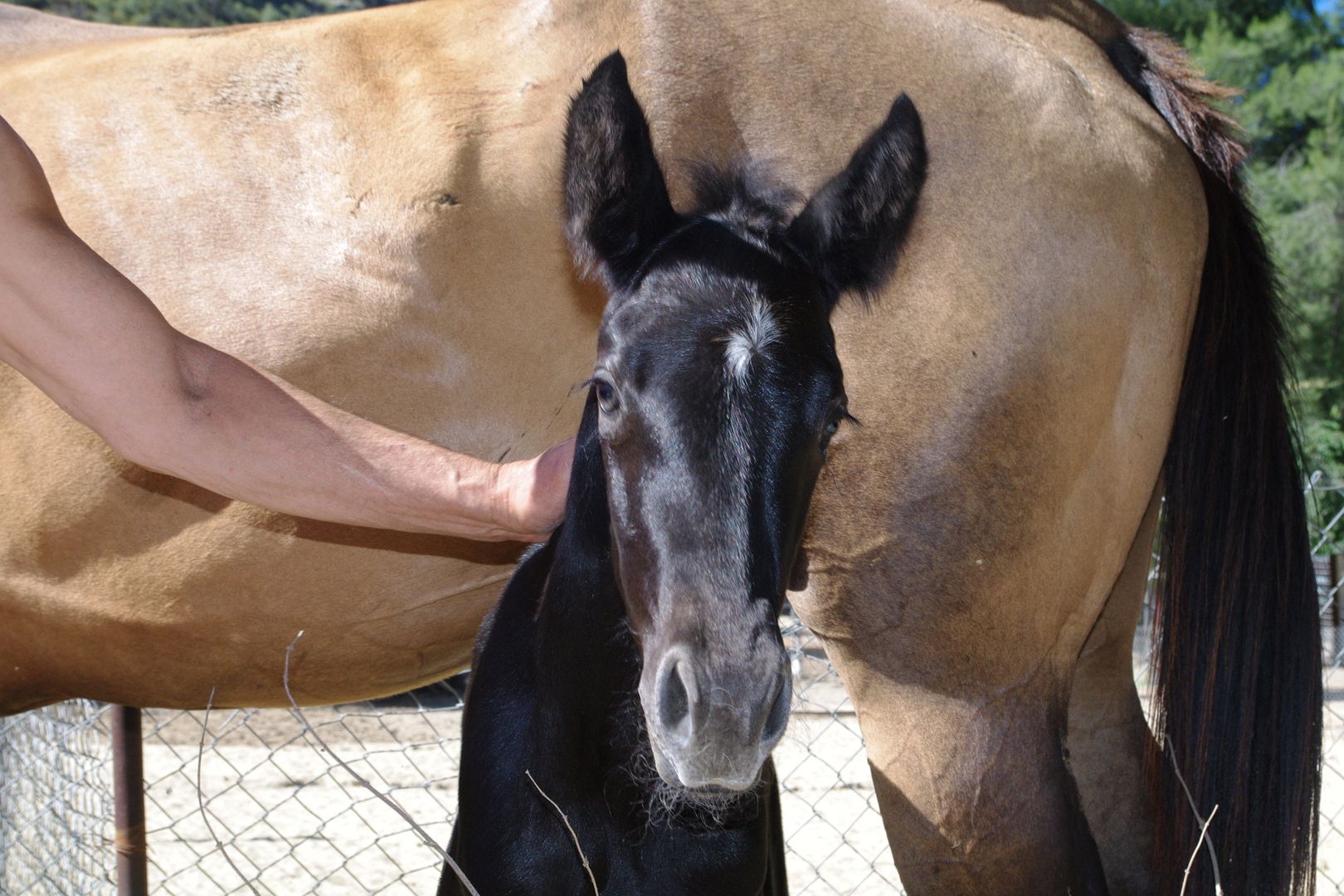 My pinto had a baby last April who came out bay. My neighbor says he'll turn black, but I keep telling him he will look just like Dakota (my bay).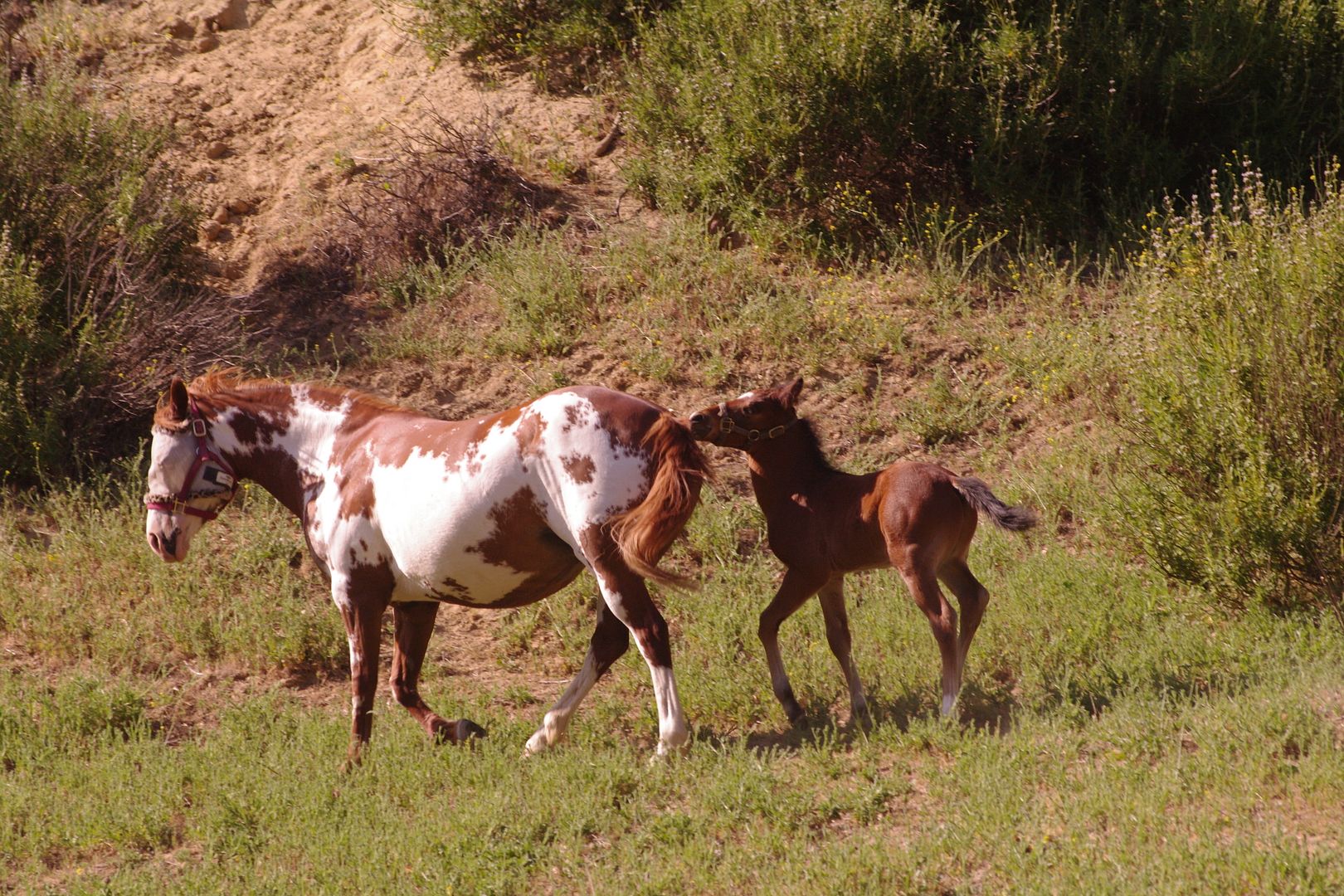 greys can come out just about any color actually. I've seen RED horses turn out to be greys...

bottom line, yes they change colors. I think Riley was a few months old before I figured out his color. He was born the same time as another baby that turned out to be a really pretty roan...
---
"Be a best friend, tell the truth, and overuse I love you
Go to work, do your best, don't outsmart your common sense
Never let your prayin knees get lazy
And love like crazy"
My totally cream foam turned brown with blonde dapples. He sire was a white Andalusian and dam was a Liver Chestnut Perch. She is 3 now and still has some color changing going on, starting to see some gold coming out. So who knows what we'll end up with. Andalusians change color slow, so we think thats going on here.
Yes, they do. Until they totally shed their baby coat you can not tell the real color...
hmmmmm my grey was born brown and as for your foal i have an idea he will turn bay/brown.... you willl have to wait and see
Your foal is beautiful he looks just like our Charlie. He was born on Easter and he is starting to loose some of his foal coat. Around his eyes the hair is getting alot darker. We think he may be a dark bay color. His daddy is a real dark bay and mom is a dark bay, but not as dark as daddy. Congrats on the new baby.
Wow, that is so neat! My family and I just went to the Kentucky Horse Park this weekend and they had said the same thing. One baby horse was white but had a little brown on the bottom of it's legs and the trainer said when it's coat sheds it will be a palomino.