Hey everyone, thanks for all the opinions! I don't know what color his parents are.. I was told from the seller that he is half Belgian and half Thoroughbred (potentially some Quarter Horse). Lilkitty, he does have pangare for sure.
Green Broke
Join Date: May 2009
Location: Winnipeg, Manitoba, Canada
Posts: 4,510
• Horses:
2
Mmmm, he could very easily be dunskin. Don't base the idea of a color off one or two horses - shading can come in such a wide array, look at chestnuts or even black duns. Dun typically stays the same shade, however buckskin most definitely does not which results in dunskins being a wide variety of shades.
The intensity of his black markings makes me think buckskin - dun's tend to be much more "primitive" with almost shaded black legs with zebra striping. Of course, this isn't a rule, but you cannot rule out buckskin being under there. Here are some examples of dunskin to show the wide range:
Dunskin stallion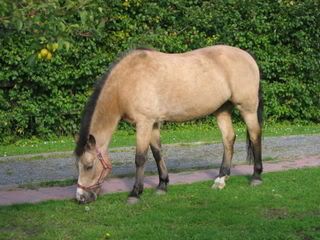 Dunskin gelding
And for example, these are standard bay duns which I REALLY do not think this horse looks like at all:
Definitely he *could* be, but the shading and the intensity of his black points indicate some cream at play to me!
---
Quote:
I hope God tells her to smash her computer with a sledgehammer.
Dun! But is he LOVELY! I love the big ones(: Especially since he's thick, that just adds onto the prettyness of him!
With the dorsal stripe and shoulder barring he's a Dun,very handsome boy!
---
Cowboy <3
My Angel Without Wings
RIP J.C.P
Thank you for all the compliments! I'm starting to think Dunskin might be what he is.. his coloring is very similar to that stallion MM posted (its easier to see all of his markings in person, I'll try to get better pictures tomorrow).

His previous owner said that while he is fairly dark now, he gets almost a buttermilk color in the summer and his black points really stand out. He does have some of the "zebra striping" on his legs.. can dunskins have that too?
Green Broke
Join Date: May 2009
Location: Winnipeg, Manitoba, Canada
Posts: 4,510
• Horses:
2
Typically you would expect to see some zebra striping on the upper legs, but with dunskins it IS possible for it to be "hidden" by the darkness of the black legs. His dorsel stripe is intense enough that I would say he is definitely dun - countershading can produce a dorsel stripe but it is almost always quite wide and faded, more of a shadow then an intense black line. It's just the intensity of his black markings and shade of coat that make me really believe he's got buckskin in their to! Not to mention, the pangre cis helping to produce a slightly different shade as well!

So I would say he's definitely 100% dun, with the potential to also be buckskin.

---
Quote:
I hope God tells her to smash her computer with a sledgehammer.
year Dressage10135, essentially a dunskin is a just a buckskin colored dun so it is possible if he is a dunskin to have all the primitive markings but have a buttery color. (like spirit!)
---

Baby, Sparta, Carmen, Henry, Hooch, Mercedes, Butterscotch
I agree lilkitty90. It is a lot of the time a buckskin that has the primitive markings. My pic I used was more of just a reference of a horse I had saved on my computer as a possible stallion to breed to. They can range in a lot of colors.
If you really want to know about him having a cream gene I would have him tested. It's only like $25. Other than that everything is just a guess. More importantly, he is a good horse and handsome to boot!
I meant to add that the reason for all the different shades are because of the kind of dun the parent was. In other words, zebra dun, lobo dun, gold dun, coyote dun. These can essentially make different shades of "dunskins" when bred to a cream parent. This is where knowing the parents can be useful. Other modifiers like sooty or pangare can make a different look also. If you look at the horse in my "barn" named Duke, he is extremely sooty and it almost makes him look black at times.