I'm pretty positive now that I have him he is Dun
Posted via Mobile Device
Couple new pics since he has come home with me.
Guard hairs around tail typical of duns
All the dark dirty looking places on him is his skin showing through the hair. U can see where he has new bitten and scraped up. He was half dead when the precious owner purchase him at auction.
Posted via Mobile Device
cute cute cute. he is lucky you found him.
He's very pretty, I like his hiney :P he should fill out very nicely.
Posted via Mobile Device
Yeah he is a stout colt!
Posted via Mobile Device
Dunskins will usually have the dappling that the buckskin usually presents, however duns can get dapples as well. I would still say Dun. Also if he had a injury that caused scaring on his dorsal his dorsal might turn white so it wouldnt show like a true dun. Stunning boy though hope to see what he grows up to be!
---
~Set Your Heart Free on the Wings of a Horse~
Mr. Sunshine
I think the dorsal will come back as his hair returns. And his coat becomes Healthy again. There is definitely a dorsal there it's just missing some hair but there is definitely a color difference and it's not like my bay colt who has counter shading. I think his coat is about to change some and as it returns it will go back to the chocolate shade it used to be. I'll take a picture of his back tomorrow.
Posted via Mobile Device
---
Last edited by Peppy Barrel Racing; 09-06-2012 at

03:00 AM

.
I am voting Dun and love him. I just got a dun/roan myself. Love him!!!
Ok better pictures of dun markings
Leg bars
Little bit of cobwebbing and masking across bridge of nose and cheeks
Dorsal and tail with guard hairs (note: significant hair loss on his back causes the dorsal to look faded)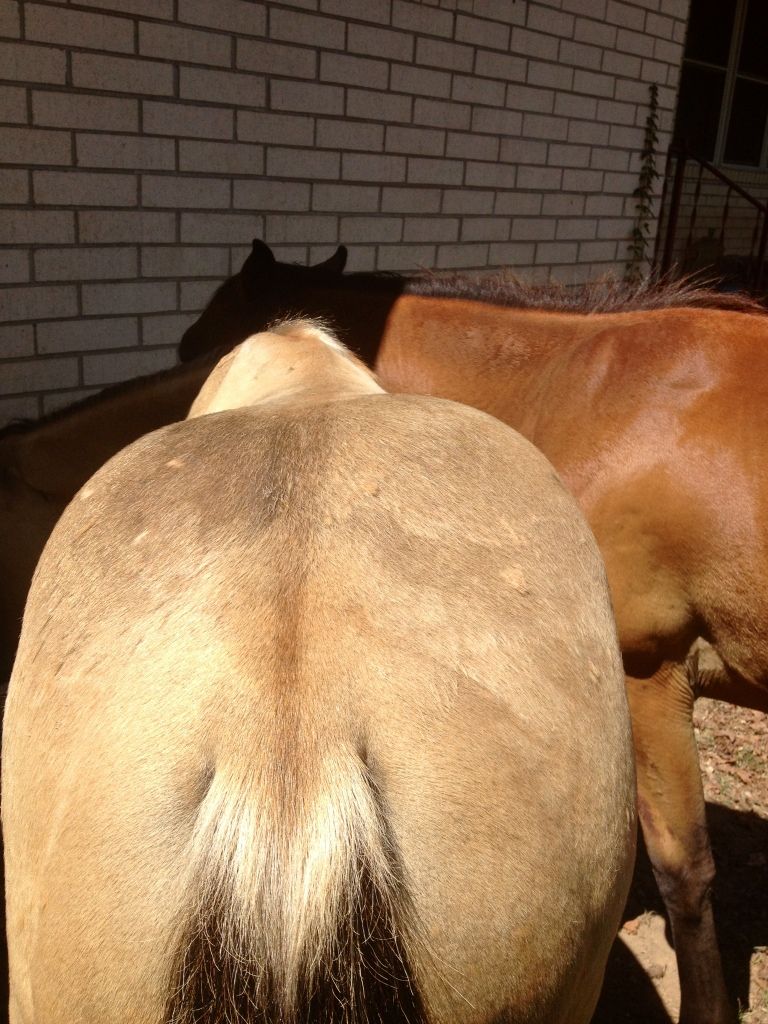 ---
Noey's Herd
I would say dun for sure.
Similar Threads
Thread
Thread Starter
Forum
Replies
Last Post
Buckskin..Dun..Dunskin?

KennyRogersPaints

Horse Colors and Genetics

19

04-17-2012

10:58 PM

Dunskin or Dun?

Peppy Barrel Racing

Horse Colors and Genetics

7

04-12-2012

04:15 PM

Dunskin?

Mdawn

Horse Colors and Genetics

7

12-06-2011

10:36 PM

Dunskin?

AlternativeEquineTraining

Horse Pictures

12

06-02-2010

06:06 PM

Buckskin? Dun? or Dunskin?

amigo82

Horse Breeds

21

09-29-2008

08:19 PM