Teehee, what is that that Djinn is holding??
---
The sensitivity of the internet baffles me.
Quote:
Originally Posted by
Peppy Barrel Racing
View Post
Lol he was just shedding his baby buff coat lots of bays are born with buff legs
Posted via Mobile Device
I know that now! I wish I had known it before I called the vet out, and before I told everyone about my one-of-a-kind gold-legged bay...
Oh, and Zexious, Djinn grabbed a coffee can grain scoop that I had just set down, and was flapping it up and down. He was a very mouthy little guy.
Captain--That is hilarious xD How cute <3
---
The sensitivity of the internet baffles me.
Here is my Prodigy growing up. He's a Kiger/Appaloosa. The oldest picture he is 5, though.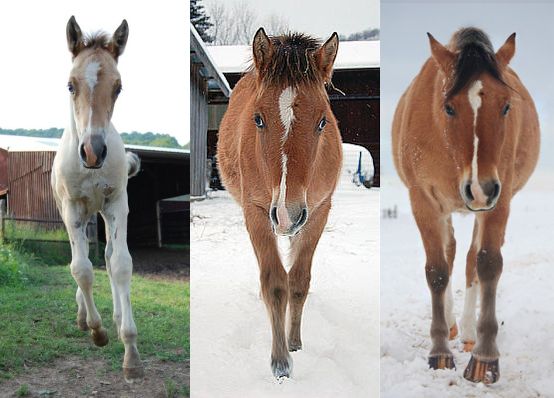 Ohh this is so fun!! I love watching their color emerge <3
Beautiful babies everyone!
Here are my two contributions to the cute!
This is Viking a Gypsy cross, this was before we got him at 2 months
This was just when we got him at 7 months (dont let those sweet eyes fool you, he was a monster!):
Him this summer (at 2 1/2 not sure what color he is - he has a flick or "gray" in his mane, like the color of a gray cat, but his spots are chestnutty):
And this is Zephyr when he arrived at 5 months old:
Then at about 8 months:
And now at about a year:
He keeps getting darker!
Keep the baby pics coming :)
I'll make room in my barn any day for Viking.. Wow!
Punks... They're so adorable ;-;
---
The sensitivity of the internet baffles me.