FRUSTRATING Color... Any thoughts?
---
Dove is a APHA mare, color unkown. Sooo... I've had this mare since she was born. She was out of a black stallion and a bay mare. She was born almost WHITE, with very faint grey points. As she has aged, she has only grown darker - In my experience, grey horses usually get lighter with age. Anyways, she has roaning throughout her entire body, even on her legs and face; not enough to be considered a true roan. Her main and tail are black. She has no dorsal stripe. During the winter she is black. Throughout past years i've called her grullo roan, grey, black roan, brown roan... what is your opinion on her coloring? How did this color occur? From what i know, she has only bays, blacks, sorrels, and chestnuts in her background. I've never really seen any other color like it.. Is there some kind of formal, or official name for this color?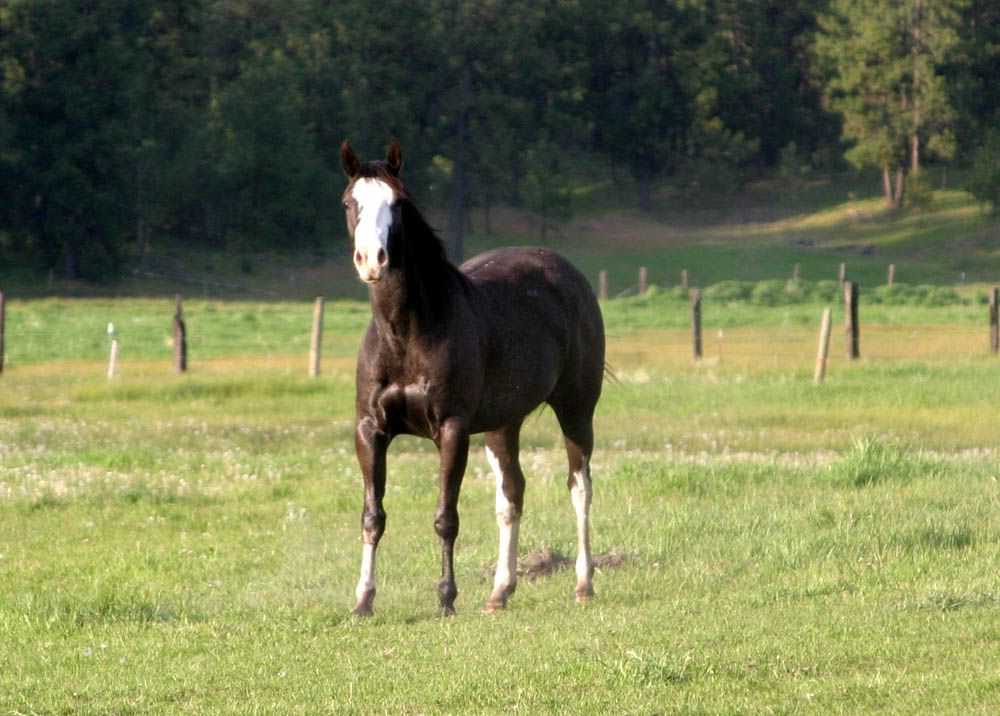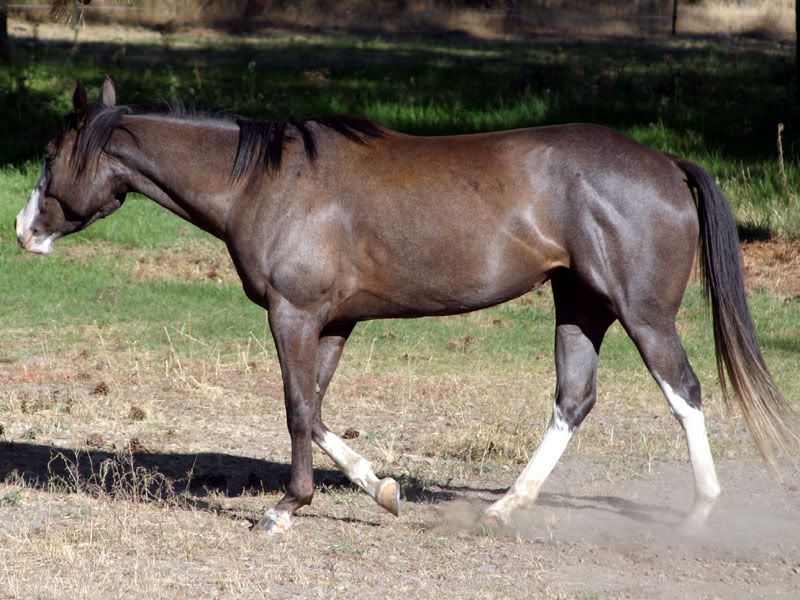 Huh, what a unique and beautiful color. My first instinct would be to call her a grullo but without a dun parent or a dorsal stripe, I don't think that is possible. My next thought was a dark bay but that doesn't fit either because she doesn't appear to have black stockings either. My best guess would be a brown but I couldn't be sure LOL. As for the roaning, I am willing to bet that is a product of her paint pattern, especially since neither of her parents are roan, not to mention that it is also present on her face.
There is a place you can send some of her DNA and have them run a color test but I can't remember where it was. There is a member here called CheyAut that would be able to tell you who runs the tests. That may be your only way to get a definitive answer LOL.
Beautiful horse either way.
Oh, and welcome to the forum
.
Edited to add: Oh!! I wonder if she could be a form of Liver Chestnut. That would certainly make sense
.
UC Davis does color testing.
Horse Tests
i have no clue what to classify your mare as. Her color sure is intriguing though!
Huh. No idea either, but she's certainly an absolutely gorgeous lady. My vote's with the testing...mostly because I'm curious too. :P
I would love to have her tested. That is an interesting idea. I dredged up a picture of her as a baby... She is probably five or six months old here. You can imagine how surprised we were when her creamy white, almost light palomino coat shed out to black! But her tail was white, and her main was black... ??? We were baffled. Then she ROANED, to add weirder onto strange. I've just never seen this pattern of color change! I should definitely get her tested.
Such a lovely mare. Kind of reminds me of the horse "Smokey" in the book by the same name. She is just exquisite.
What about like a weird silver liver chestnut? lol I have no idea on her shes weird but really pretty!
That "roaning" is caused by the Sabino gene, which is also responsible for her white legs & face.
Wow I am frustrated too, and I don't own her lol. I would love to own her should she be looking for a new home.............................

I am working on this one... I am sure I can figure out what colour she is... and then you have to get her tested so I know lol
---
Mods, grant me the serenity to see the opinions I cannot change, courage to change the ones that should change, and the wisdom to spot the trolls.
Just confirm for me, is her mane and tail black?
---
Mods, grant me the serenity to see the opinions I cannot change, courage to change the ones that should change, and the wisdom to spot the trolls.