I recently did some research on the terms glass eye, china eyes, and wall eyes. Though there is some debate (many people still use the term wall eye to describe a completely blue eye) according to wikipedia, the term wall eye is used for a half blue and half brown eye such as you describe. The otherbterms, china or glass eyes are used for a compleyely blue eye.
Quote:
Bah. I wish allbreed had pictures of all the horses. I am not an AQHA member so I can't get into their database of horses either. Judging from Chics Texas Twister's get on facebook, a few of them had facial markings that looked like they could be caused by frame. However, there were no pictures of their dams either.

Did you breed the filly? Or did you buy her from a breeder? If you bought her from a breeder, you could email them and ask if they know the OLWS status of their stallion and mare. If you bred her from one of your mares, you could still email and ask the status of the stud.
google can be scary - never thought about googeling the stud ... :)
A friend of mine breeds these horses, a bit tough to ask an old Quarter Horse breeder about the OLWS status of his Quarter Horse (!) stallion ... yes, I know, Quarter Horses DO carry OLWS, but don't tell an oldtimer
Now that you are pointing it out - yes, some of this stallions offspring have extending markings. He, himself, was a sorrel with very little markings if at all, I do not remember and, unfortunately, he passed away before I had the chance to take pictures of him. His sire, Smart Chic Olena, sure has a big fat blaze in his face ...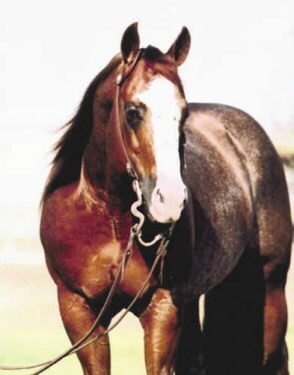 Thanks for giving me an idea - guess we found the culprit for the partial blue eyes! :)