grey progression
---
ok genetics are a love of mine. and there is this old cowboy dead set in if its grey its a blue roan.. there is a horse bought from an auction by a friend of mine who is CLEARLY grey, but because he has a little grey around his eyes and nose, with a white face he is blue roan. his explanation is once a horse hits 4 his color is set no matter what.
so if its a grey it will be completely white before the age of 4 according to him.. and he helps register horses.. no wonder registery colors are in such deep trouble lol
if anyone is so kind to have progresson pictures (as many as you got i don't mind!) where you can pretty much clearly tell its the same horse (by the same marking or the same person) so he cant try to disclaim it with a close estimated age with the pictures so i can prove to him that his horse is grey. ignorance usually doesn't bother me, but when you deny TRUE information that has facts to back it up. i must prove my point.
---

Baby, Sparta, Carmen, Henry, Hooch, Mercedes, Butterscotch
oh and a picture of the greys.
his name is unali
unali and his little brother who is a yearling. and unali is 4 btw. thats why the guy says he is a blue roan.. because he is over the age of color change..
---

Baby, Sparta, Carmen, Henry, Hooch, Mercedes, Butterscotch
The graying progression of our 6 yr. old OTTB, Beauseant:
may, 2010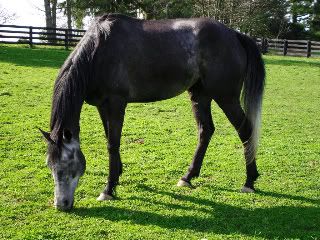 august, 2010
December, 2011
And WOW>>>>look at this sudden accelerated dappling and graying...
Last week: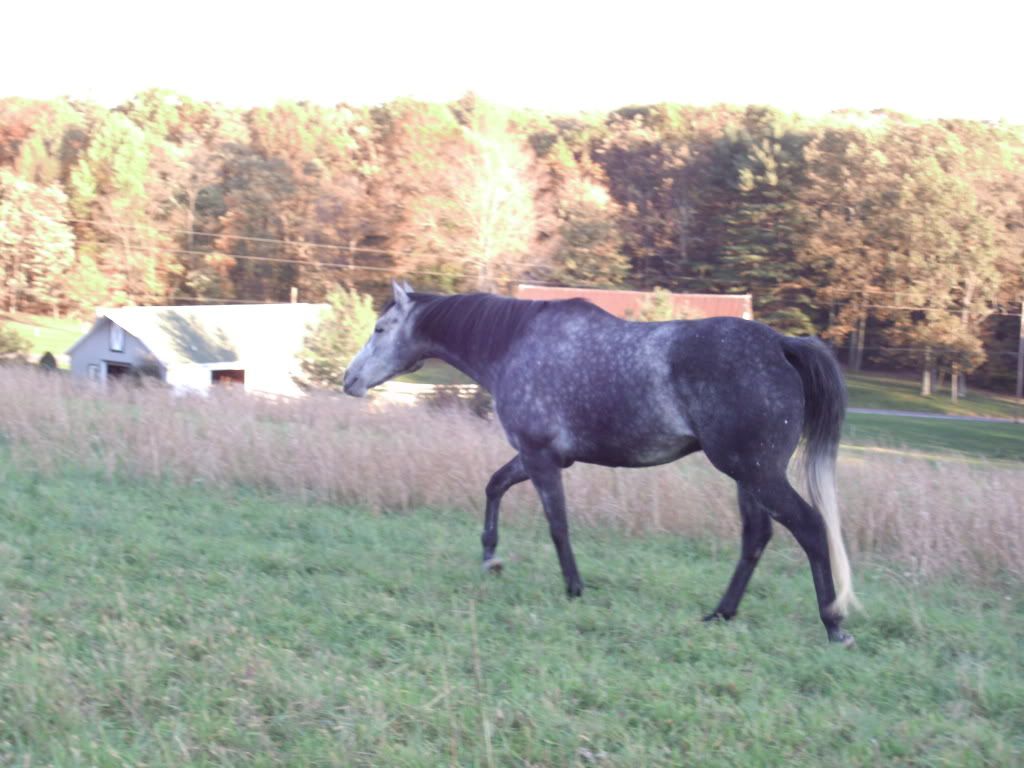 Haha, gotta love those folks who are completely set in their ways.
I have a decent photo progression of Dobe except for the first picture which is a scan of a really crappy polaroid.
Him at 3 years old
Him at 4
Him at 5
Him at 7
Him at 8
And him this year at 9
---
Always remember that feeling of looking at a big, open country over the ears of a good horse, seeing a new trail unwind ahead of you, and that ever-spectacular view from the top of the ridge!!! Follow my training blog:
http://robertsontraining.blogspot.com/
Bones at four:
Bones at...six, maybe?
Bones at nine.
She's going the other way...gonna be a bay roan before too long....
Yea, she is.... is there such a thing as reverse graying???!!

Our boy was mostly black when we bought him two years ago, starved to a body score of 2.... now he is one fat dude, and with the increase in food and his weight gain, his graying and dappling has accelerated dramatically. Especially within the last year. He is now six
Nope, just heterozygote repigmentation (fleabites).
Wow Bubba! Bones looks like a different horse from his 4 year old pic to his 6 year old pic! I have a gray also. She's 8 and is still a little bit dark dappled. I wonder if she'll just go white or get flea bites?
thanks guys! i really hope this helps him, bones is last picture may be a bad idea then he probably WILL call him a bay roan.. lol, you know cuz the black aon the muzzle and around the eye
---

Baby, Sparta, Carmen, Henry, Hooch, Mercedes, Butterscotch
Poor Bones. lol She is gender confused.

Hope you can get him convinced, if you can't I wouldn't waste to much energy on it. There are a lot of people who are determined that greys are roans and roans are greys and no amount of evidence convinces him otherwise.

What shade of "roan" is he calling his two greys?