An old wife's tale - just like white hoves are weak.
---
I'm not arguing with you, I'm just explaining why I'm right.

Nothing sucks more than that moment during an argument when you realize you're wrong.

It's not always what you say but what they hear.

Thanks chiilaa :) That made it much more clear.

And yes, it is an old wives tale, I was just curious if anyone else had heard it. When I first got my pally, my friend wouldn't ride her becuase she believed in that saying...now she loves her lol. Although, sometimes I wonder......lol. She does have a bit of an attitude ;) jk jk.
Yeah, my pinto Pia has that except it goes from blue to a prett ygreen colour. she all ways gets extra pointsin shoes because of her eyes. i have once got surpreme in the royal show
---
When we ride we borrow strength, courage and power
My foal has a blue patch in one eye :) She's got a blaze so I think it's white marking caused. I think she might have sabino in there somewhere, her daddy has HEAPS of white (blaze and 3 white feet I think it is, maybe it's 4) so it's definitely a possibility.
Sabino doesn't cause blue eyes. Splash or frame does.

You are right tho, it is white marking caused. However, a horse can carry frame or splash, have not a single white hair, and still have blue eyes.
---
Mods, grant me the serenity to see the opinions I cannot change, courage to change the ones that should change, and the wisdom to spot the trolls.
Well she ain't splash and she ain't frame. Only possibility for her, colour wise, IF she has a pinto pattern, is sabino. And she definitely has a blue patch in one eye.
I would love to see photos of her if you have any?
Also, all white markings on the face and legs are caused by one of the pinto patterns too, so don't rule them out
---
Mods, grant me the serenity to see the opinions I cannot change, courage to change the ones that should change, and the wisdom to spot the trolls.
I only have a couple of poor-resolution pics and they don't show the eye :\ Will post them anyway.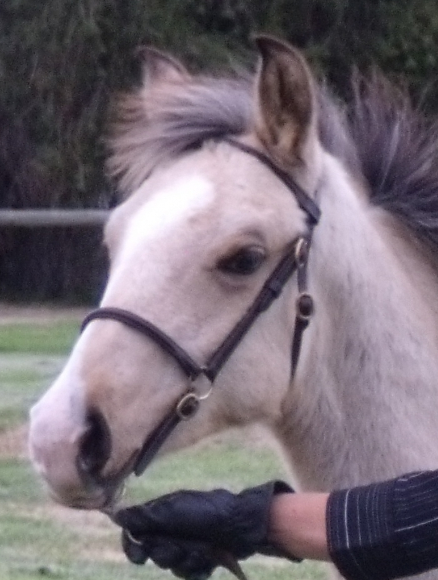 They're not the best confo photos but they show her markings. And I swear she has NO white anywhere but that one leg and her face - no belly splash or anything. She doesn't have any of the markers of splash, she has a couple of sabino markers, and I don't really know enough about frame to be able to say if she is or isn't based on the minimal expression she DOES have of whatever pattern it is, but I don't think she is.
Edit; although, as an afterthought, might the one coloured nostril and one white be maybe a marker of splashed white? Splashed white horses nearly always have a coloured lip spot so it might be minimal splash?
Edit 2; the white spot on her lower lip is definitely a sabino marker. I didn't notice that before. So she has sabino and maybe splash or frame?? I'm thinking sabino and splash but I'm not an expert.
---
Last edited by blue eyed pony; 06-26-2011 at

07:28 AM

.
I looked at her blaze and instantly thought sabino and splash. Sabino because it is avoiding the eyes, splash because it is 'sliding' off to one side. The sock looks nice and neat too, a cleanly lined leg marking is a good splash indicator too
---
Mods, grant me the serenity to see the opinions I cannot change, courage to change the ones that should change, and the wisdom to spot the trolls.
Oh ok cool :) that would explain the blue patch in the one eye then. She is very special. Really hope she matures the lovely gold on her knees/hocks but I don't really mind either way. I like them gold and I like them creamy. Buckskin is just a gorgeous colour IMO regardless of shade.

Does the minimal expression of splash mean that if she ends up being bred (IF - she'll have to be really exceptional) there's a chance she'll throw a loud foal? I probably won't breed her, I bought her to eventually be ridden and take over from my rising 16yo anglo arab and if I put her in foal I'll lose a lot of time I could use to get her ready to do just that. Plus, quality though she might be (in my eyes), she's of unknown breeding so her foals would only ever be eligible for part-bred registration no matter the stallion I were to put her to. That takes a lot of $$$ off the potential foal's value and usually the well-bred, valuable individuals end up having a better/more successful life than the poorly bred dime-a-dozen types. Plus, there's no guarantee that she is as gorgeous as she is because of her breeding - she might be so lovely despite it! (I know I personally wouldn't have kept her daddy entire if he were mine, but I'm not complaining, if he was a gelding I wouldn't have my Satin)

As an afterthought, if you look carefully at the headshot photo, you can see a light spot in her eye. I wonder if that's the blue patch showing up?

I make myself sound like I only love her for her colour hahaha but that couldn't be more off the mark, I would love her even if she was a boring bay with no white (incidentally, I looked at a colt matching that description, and he was lovely, but he had a dodgy hoof due to injury [the reason for sale, the owner told me, very upfront], and no hoof, no horse!). Her colour and the gorgeous eye just add to how gorgeous she is. The colour does not make the horse, but the horse makes the colour. Does that make sense?