Has anyone had a foal this color? Brown, Bay, maybe Black?
---
We've had a lot of foals, but never one this color. We've had blacks, bays and browns born on our land, but this one is unusual. No dorsal stripe. She is out of an ink black sport horse mare and a buckskin paint stallion. (Photos of parents attached) What color will she be? I've been told she could turn black. Has anyone had a foal this color? What has it turned out to be? Thanks so much!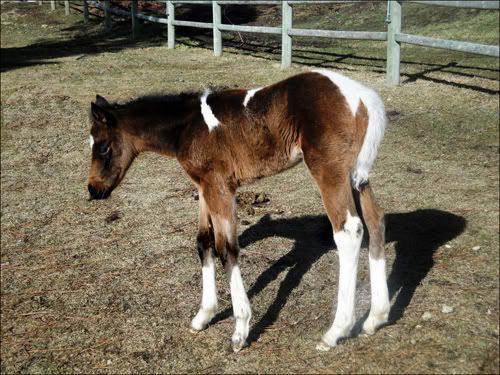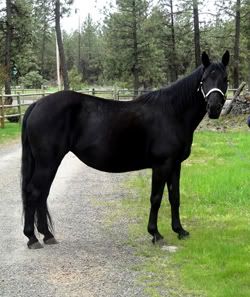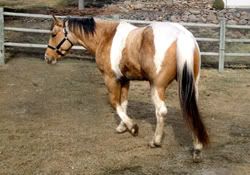 I'd put him as a bay. Definitely not black. Maybe brown, you will know soon once he starts to shed out. Very pretty baby btw ;)
---
"If a horse fails to do something that is because he was not trained to do it. If a horse fails to do something properly that is because he was not trained properly."
www.wildestheartart.com
Maybe a dark bay, maybe brown. Maybe smoky brown when she sheds out if she's got golden hairs mixed in.
I was going to guess smoky brown too :)
---
Mods, grant me the serenity to see the opinions I cannot change, courage to change the ones that should change, and the wisdom to spot the trolls.
Just out of curiosity, could she be a dark or smokey buckskin?
---
RH Queen O Anywhere "Sydney"
2009 Sugarbush draft
Judging by her parents I'd say she is a smokey black, the lighter fading it probably due to her foal coat. However, it will be hard to tell until her foal coat sheds out. Would you be willing to post more pictures of her in a month of so when she's older?
Smoky black doesn't look any different than black, so the only way to test if she was actually smoky black would be through testing. However, smoky brown looks slightly different than normal brown. Instead of the lighter brown on the muzzle, elbow, and flanks, it's a more golden colour.

Buuut foal coats are wonky, so it would be best to wait until she sheds out to make more concrete guesses.
Looks like she might be bay of some sort, becuase of the dark on her front legs. But like everyone else has said, it's nearly impossible to tell with foal coats. Whatever color she is, she's ADORABLE!
---
Worth The Wait <3
Super cute (: And She doesnt look bay at all! I would say a brownish color... Bay is red as you already know... she doesnt look red to me
But I would say she is brown...
---
E v e r y horse is good for something. You dont throw a whole life away just cause he's banged up a little...