Is he dark bay, seal brown, or blood bay?
---
Jack is one of the livery horses. He's almost black (but his legs are slightly darker, making me suspect dark bay), but has the "seal brown" warm spots. Recently someone told me he's a "blood bay" because of his muzzle.
Now my curiosity has won me over. What do you guys think?
Winter/Spring Coat
Summer Coat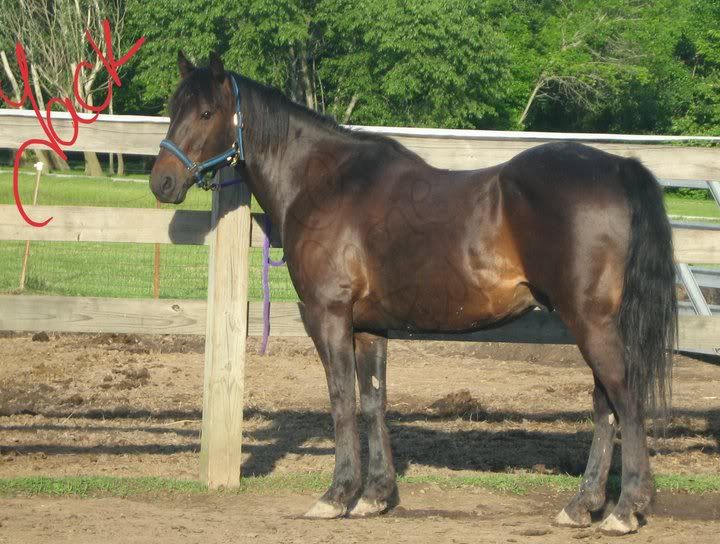 ---
"Adapt or perish, now as ever, is nature's inexorable imperative." (H.G. Wells)
| Missile Sweet Studio |
Dark bay. Blood bays have a much lighter, brighter coat. He has definite black points, and that rules out seal brown. He has a very pretty color though :)
Brown. Legs and points can and are black on brown horses as well.
ND, can you show me a pic of a truly bay horse? All the horses I've thought were bays for years are technically brown from what you've been saying....
Sorry to hijack OP!
MN - Just remember, that right now that is just my opinion on the lighter bays/browns. No one has had any reason to test for brown on them, so I could very well be wrong. If I had some of my own I would test them... But of course the only "bay" I own is a silver bay pony.
I should get Lily tested, she has that dark bay/brown look. Too bad I didn't get Flame tested when she is still alive because she definitely looked like a bay, but she got that orangish muzzle during the winter.
He's a dark bay!
Posted via Mobile Device
MN I would say that Lilly is brown from that one face pic in your barn.
That's Flame in my barn, I have a thread posted with pics of Lily in the critique section from last August. Not sure what I called it... Maybe I could find it.