Registries are notorious for getting colors wrong and I would
never
take their word as 100% on a color. The JC in particular, consider the fact they register greys as "roans" on a regular basis. There are many, many misregistered horses out there. Registries are
not
current with color genetics.
Black based horses
can
and
do
sunbleach. Some blacks will and some blacks wont, and some blacks will sunbleach to various degrees.
MN - Here is the link to the only place that tests for brown.
Pet DNA Services of AZ - Equine Services
They may not require color testing, but they DO set the standard for their registry. As for grays and roans, they are rare in the TB world, and like other registries like AKC, haven't recognized certain dog breeds though they are technically a breed, thus they are thrown into a category.

I have stated before that the only way to tell for sure is to have the test, but the opinions I offered are just thst, and from looking.
Posted via Mobile Device
I can agree with NdAppy that black horses do sun-bleach. We have 3 black horses that look "brown" or "dark bay" in the late summer, but turn black again with their thicker coats. Sun-bleaching can/will affect any coat color, as far as I'm aware; the sun even bleaches my hair, taking it from auburn to almost sandy brown/red.

But, on the website provided, it shows a picture of a Seal brown AQH; regardless of the "variation," the horse in my OP is still brown.

I had actually had a heated discussion with a friend some time back about bays; I said a horse was a bay and she corrected me, saying it was a "Mahogany bay." When I retorted that it was still a bay, she got huffy and it went downhill from there with her "I'm right your wrong" attitude.

Right now I'm balancing between dark bay and seal brown. I'll ask my vet and see what she thinks, in addition to everyone here. (:
---
"Adapt or perish, now as ever, is nature's inexorable imperative." (H.G. Wells)
| Missile Sweet Studio |
That may be the standard for the registry, but it doesn't mean it is correct. There is enough information out there that going "but that is what the registry says!" and blindly following it is really kind of sad.

As for grey TBs being rare... That's a luagh. True roan TBs are extremely rare and only come from one line. It's asinine having grey horses registered as "roan."


There are enough indicators for certain colors to tell what most horses are visually without a test. All a test would do would tell you if the horses was homozygous/heterozygous. As for not knowing without a test... Guess that means we should test all the red horses as well since we don't know they are red without a test.
I honestly would not trust a registery to tell me what colour my horse was unless it was obviously that colour. The AQHA didn't recognize bay roan as its own colour until a few years ago. Bay roans were registered as red roans.

And if black doesn't sunbleach, then why does my buckskin mare have reddish fetlocks from being outside?
I am inclined to look at what a registry has called a horse, and then assume it is a different colour lol. That is how much I respect their colour knowledge lol.

Po and ND will have seen me say it before, but I will say it again. Here in Australia, buckskins and duns share a registry. They go in the same classes at most shows. Most people use the terms to apply to both colours, and quite happily interchange them. All it is is a lack of education about the colour genetics - just like a registry body who would accept buckskin and palomino, but not cremello or perlino.

And by the way, a perlino would test as bay.
---
Mods, grant me the serenity to see the opinions I cannot change, courage to change the ones that should change, and the wisdom to spot the trolls.
Black most definitely does sun bleach xD
This horse is tested black. Not bay, not brown. Black.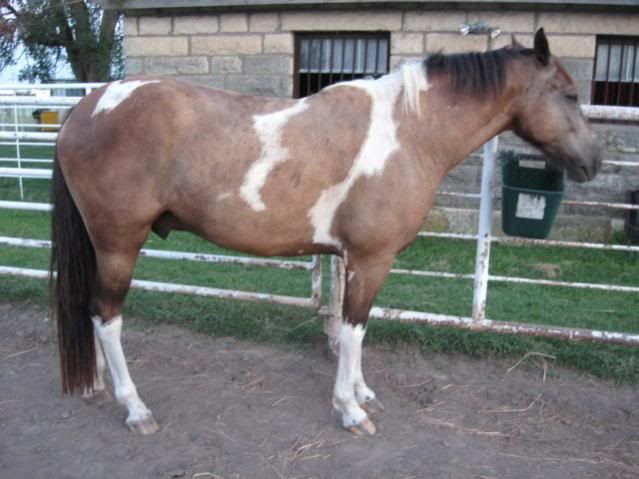 And anyway, registries often do not have the colors correct (ESPECIALLY the Jockey Club! The only dilute they list is palomino, yet there are buckskin, smoky brown, smoky black, perlino, smoky cream, cremello, etc!). To be accurate it is best to first look at phenotype, and then if confusion still remains, test!
Quote:
Brown. Legs and points can and are black on brown horses as well.
So would that make my horse brown too?
He has the lightness around his nose, eyes, and groin area and his stomach is more light brown than dark brown.
---
RH Queen O Anywhere "Sydney"
2009 Sugarbush draft
Yup I would say that is a brown too Dragon :)
---
Mods, grant me the serenity to see the opinions I cannot change, courage to change the ones that should change, and the wisdom to spot the trolls.
I agree with Chiilaa on that one!