Is he really a "true" black?
---
What color is he? He is being called "black", but i don't think so..he looks bay to me especially in the sunshine.
This horse is dark brown. I have one of a similar color - it is registered by the breeder as dark brown.

A bay horse has more of a reddish or at its very lightest, a sandy color.

Beware, there are some who call any horse with a black mane and tail that isn't a buckskin or dun, a 'bay', regardless of its body color.

But bay consists not just of point color, but also a body color - that reddish brown color, originally 'badius', in Latin.

In general, people tend to like to have a 'black' horse and so people often call dark brown or dark liver chestnut horses 'black', especially when they're selling it.

However, you can call your horse whatever color you want.
---
Last edited by slc; 02-25-2011 at

07:45 AM

.
Very interesting! So what color is this mare? I always called her a dark bay.
i think hes black, he just fades in the sun. even if a black horse fades they are still black. there is no difference between black and 'true black'
---
Gypsy & Scout <3
Everybody is a genius. But if you judge a fish by its ability to climb a tree it will live its whole life believing that it is stupid. ~Albert Einstein
Tamara - You horse is brown.
Starlite - when you get him home, if he isn't already, can you get some closer/better pictures of his head? Thanks.
The fine hair around the eyes and on the muzzle will remain black on a horse even if the horse fades. And yes true blacks can and do fade...
Yes, I will get more pics. :)
Posted via Mobile Device
Well the second one also looks dark brown to me, i see brown, not red. I'm sure some people would argue that she has enough brown on her belly and flanks to be bay. But I tend to stick with bay being more a reddish color and less a brown color.

In general, in the US, people are loathe to call a horse 'brown' or 'dark brown'. In Europe, I think there is just less emotion around color, so you hear people using the term brown for these colors.

But here, oboy. Let it be called anything, faded black, smoky black, ANYTHING but just plain old BROWN, which sounds so boring. We love to cook up lots of names for colors.
I would tend to call the other a seal brown which I don't think they register so brown it is :)
My daughter has a brown horse and I think he is one of the prettiest horses I have ever seen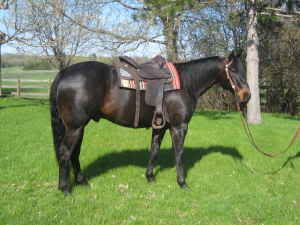 ---
Last edited by WickedNag; 02-25-2011 at

12:00 PM

.