I didn't like them until well after i got one, now they've grown on me big time! But then again I really wasnt a fan of my mare to begin with, now she's ghe cutest thing ever haha. But I don't like white that goes past their eyes, and eyeliner is a must :) my mare has one blue eye, & isn't photosensitive during the day but I know she doesn't see some things well depending on the light and hates things like head lights at night.
Posted via Mobile Device
I love a little chrome on a horse as long as it has the good looks and conformation to go with it! I know I have two right now, a red roan and a sorrel
---
You know how to make a miniature horse even smaller? Leave them in the dryer a little longer!
"Don't ever regret something that once made you smile"
Quote:
I didn't like them until well after i got one, now they've grown on me big time! But then again I really wasnt a fan of my mare to begin with, now she's ghe cutest thing ever haha. But I don't like white that goes past their eyes, and eyeliner is a must :) my mare has one blue eye, & isn't photosensitive during the day but I know she doesn't see some things well depending on the light and hates things like head lights at night.
Posted via Mobile Device
Very true! I will admit since buying one, they have grown on me considerably!
Heres a pic of my guy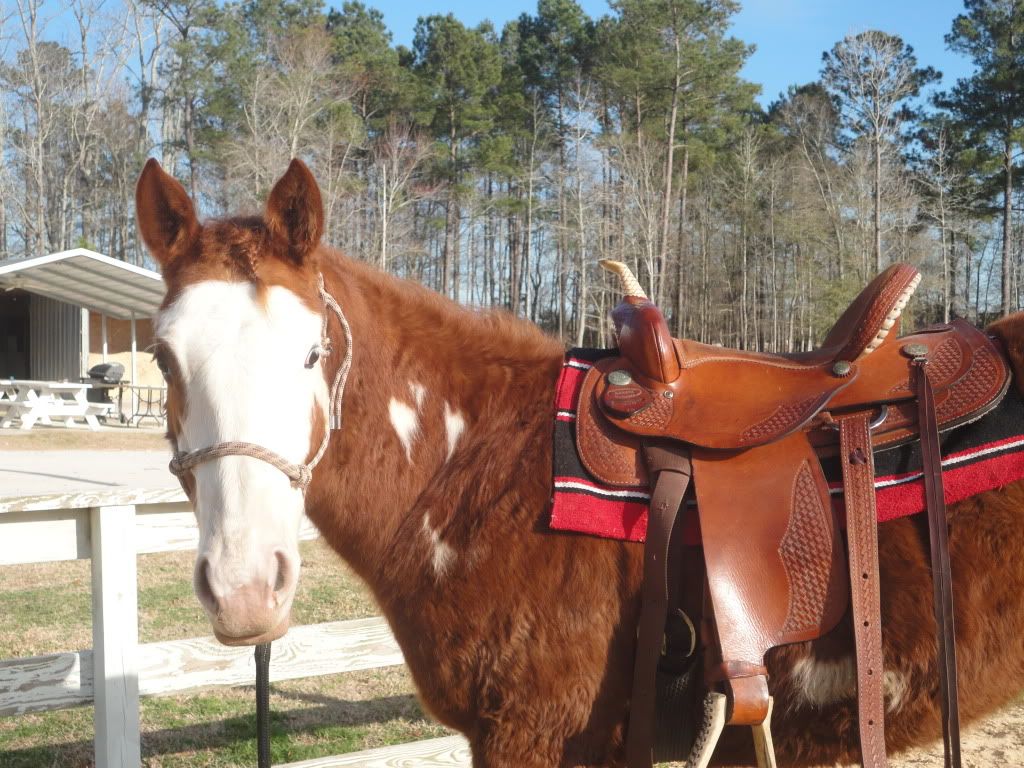 Tahoe is our paint gelding and he got all his white on his face except a tiny stomach spot..... he does not have eye liner on one side and that eye is always a little weepy. He is very photosensitive, we're in southern Cal so we have to keep a mask on him and put sunscreen on him from spring to winter basically or he peels. He manages to keep his white face pretty grubby...... Although we love him, I won't get another bald face if I have a choice as his face is high maintenance.....
---
Dana
Riverside, CA
I am sucker for bald faced paints, but then I am owned by one.
I love bald faces. Sky has one, and she came with the name Pie Face because of it, I had to change it.
101_0550-1.jpg
The only thing I hate is her photosensitivity. I had no idea about this beforehand, and ultimately found out the hard way. I call this her clown face.
101_0643.jpg
Quote:
Rodeo is so cute :)
Thanks so much!!!
I love them! One day I'll have a horse with a bald face.. :)
i love a mostly solid or solid horse with a bald face! inless the skin around their eyes is pink, then it just reminds me is a sick cat....