How would you describe his facial markings?
---
I've always just said that Sunny as a blaze, but when I think about it I'm starting to wonder if it's a funny shaped blaze or if it's actually a blaze and a star that just happen to touch. What would you say?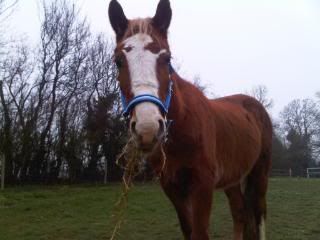 ---
Last edited by DancingWithSunny; 04-28-2011 at

07:28 AM

. Reason: because I fail at spelling
Blaze. Cute though!
Posted via Mobile Device
Almost looks like a bird wanting food. Baby bird.
Posted via Mobile Device
Cute! is how I describe it
---
Cross Country- The act of hurling yourself and your equine partner at a stationary object with poise and grace while attempting to survive...

Haha, thanks guys, I guess I should try and get 'Cute' registered as an official face marking lol.

And I never thought about it before, but it does kind of look like a bird!
I think it looks like a rabbit. The ears on the left side of the rabbits head and both front legs spread out.
---
Everyone should be allowed at least one bad habit, and that's NOT owning a horse!
Mares RULE! Geldings drool!
I would say it is just a funky blaze hehe. Cute none the less.