I think my Chestnut may be a appaloosa in 10 yrs
---
I have a 8 yr old chestnut Arabian/Welsh Mare. White spots pop up on her a couple times a month. The spots range from the size of a pea to the size of a golf ball. What in her genes could cause the white spots to come out? I know nothing about her before I got her 3 years ago.
It sounds to me like she's exhibiting Birdcatcher spots, not an uncommon thing, though I don't think they've isolated the gene that causes them yet or whether they might be caused by something environmental. They are unrelated to the LP (Appaloosa) gene though.
They're found in many breeds including QH, TB, and Arabs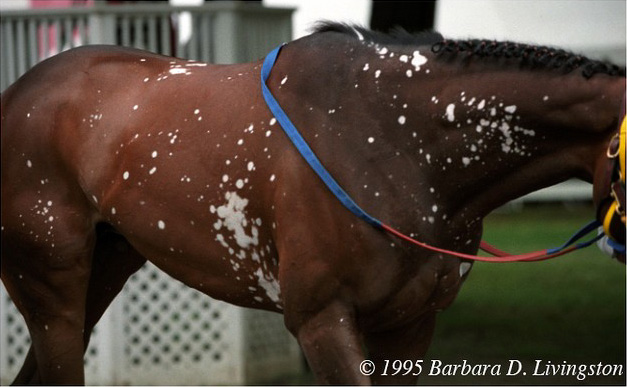 Very interesting. I will research that more. Thanks so much.
Welcome to the forum ... farm boy? lol
Well, I did some research on Birdcatcher Spots and it was "spot" on.
That is exactly what is going on. The sites I have looked at reference Sabino and Rabicano but when looking into these terms, my mare is not showing these "traits", if you will. Not that it matters, I am just glad I know what the spotting is all about.