He looks like a mule, but a full body shot with his head up would be very helpful.
---
A good horse is worth more than riches. ~ Spanish Proverb
A black donkey and any dun horse could have thrown this color, I can't wait to see him shed out!!

BTW, thanks for being a part of the solution!
Those are big ears and I had to look a few times also, but I'm gonna say thats not a mule. Those are the worst angles to ever judge anything about an equine. Show us a full head shot with his forhead uncovered so we can see his whorl and include all his ears and his muzzle.

I say long eared horse baby at this point but we really need a full body confo shot to give very accurate information.
---
Last edited by Trinity3205; 05-07-2011 at

05:12 PM

.
as said before the BEST way to tell would probably be feet, and a tail shot as well and if he isn't a mule wouldn't it be possible that he could be a hinny??
---

Baby, Sparta, Carmen, Henry, Hooch, Mercedes, Butterscotch
There HAVE been successful mule breedings... quite possible he's 3/4 one way or the other!
His feet even look like a mule's. Very pointy, small and upright.
---
A good horse is worth more than riches. ~ Spanish Proverb
I agree, really bad pics for judging, and also don't believe he's a mule, I could say for sure w/ a good pic, but don't think so based on those pics.

In the first pics I thought he may look like a hinny, but I don't think so.

And he's not grulla, just fyi it would be dun factor, not grulla trait, a grulla is just a black w/ dun. He's definately not grulla, doesn't look dun at all to me.
Sorry, but just for reference here is a mule about that age,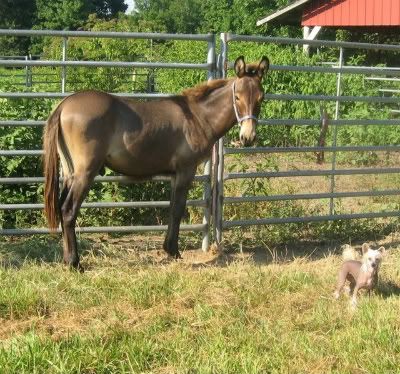 I think Smrobs is right, and he's a mule cross with a finer boned horse like an Arabian or even a POA.
---
So in lies the madness, the pursuit of the impossible in the face of the complete assurance that you will fail, and yet still you chase.
From my understanding, on the rare (very very rare) occation that mules reproduce they either pass the donkey genes or the horse genes, not a mix of both. So that is very unlikely either way.