Quote:
That wouldn't happen to be Tacoma Unit One fair grounds would it? Looks very familiar. :)
yes it would :)
Pistol a couple of hours old -
About a month old -
Just over a year old -
Just shy of two years old -
30 months old here -
You can see how long it has taken for his black points to come in. (Pistol is a silver bay)
Quote:
Originally Posted by
kayleeloveslaneandlana
View Post
XD here's my gorgeous girl as a foal! Haha!
then at 2...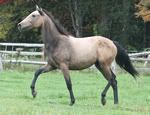 and now!
What color is she?
Posted via Mobile Device
Awww lookee, all that cute, AND a donk, wants
ND I was looking at the yearling photo of Pistol, and thinking to myself "gee chestnut with flaxen mane and tail can look a lot like silver bay when the chestnut has those sooty looking legs". Can you tell it's early here and I haven't had my caffeine yet?? lol
---
Mods, grant me the serenity to see the opinions I cannot change, courage to change the ones that should change, and the wisdom to spot the trolls.
lol Chiilaa! I really need to get a picture of him next to Blossom (his dam) You can really see the difference then as she is red flaxen.
Pistol was 10 months in this pic but you can see the tone differences between his coat and his dam's.
just over two months (not a great pic but gives you an idea of summer coat) -
His dam (was penned up front waiting for the farrier. the right rear was previously injured and grows an elf shoe no matter what. TO say it is frustrating is an understatement).
These are pictures of Bambi and Jelly Bean. Aka "Docsmoneyworries" and "JBs Driftin Robin" :) Bambi is the paint and Jelly Bean is the sorrel (she was born right after Easter)