May I just say that your filly is adorable. I don't have enought time to read all of the posts, but did you mention her breed?
---
Sunny's Training Progress Blog
(RECENTLY UPDATED)
What breed is she not! Lol!

Her father is a German Riding Pony. (He got welsh pony, welsh mountain, welsh cob, arabian, thoroughbred, westfalian and so on in him.)

They kind of mix smaller ponies (mostly welsh) with horses to get a pony with the looks of a warmblood horse.

Her mother is probably a welsh cob.

Storm, my filly, will be registered as a Welsh Partbred.
Just from the looks of her, she looks like she will be elegant :) She is built great and I never have heard of a horse with so many breeds in her! lol
---
Sunny's Training Progress Blog
(RECENTLY UPDATED)
Yes, very stunning filly there! Definitely will be a looker, congrats!
---
"True friendship is sitting together in silence and feeling like it was the best coversation you've ever had."
Areion - 2010 AQH Palomino Mare
Very sooty! Gorgeous little girl. Your lucky to have her
Posted via Mobile Device
Lol I've been talking with a lady who might very possibly have a mare I used to have's baby that we bred her for.. The baby would be Qh/Kiger cross. And this lady has one that kinda looks like mother n father, and he's a beautiful sooty palomino too :)
---
"It is the difficult horses that have the most to teach you" - Double Dan Horsemanship
Thanks everyone!
Quote:
Yes. The sooty gene can account for grey hairs in the mane and tail.
Another question, The tip of Storms ears are darker, could that be because of the sooty gene?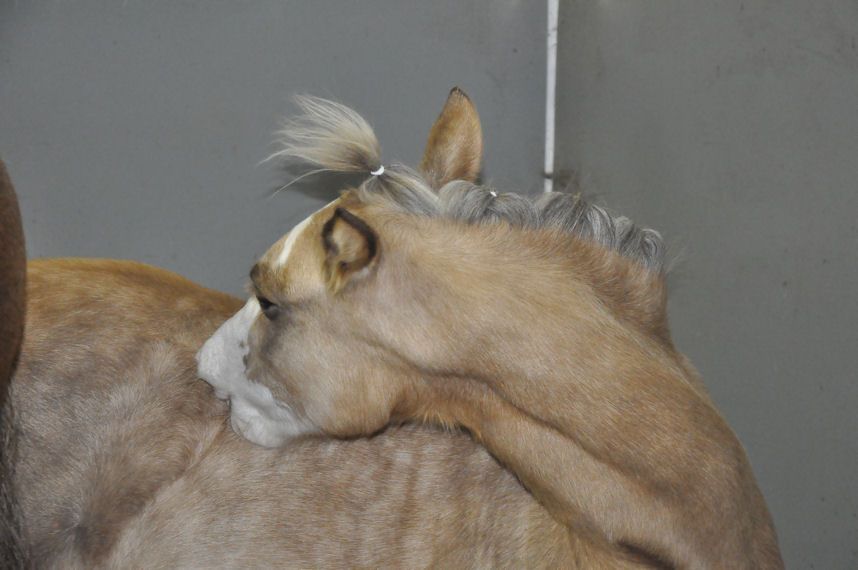 IMPO yes that is caused by the sooty gene.
Her hocks and knees are getting darker, and she is - as before - darker around her eyes.
FLUFFAY
I don't actually like pali's [especially pali mares - that white tail is a nightmare when they're in season] but I love her... I can has plz? teeheee anything 12.2 upwards I can ride as long as it's chunky and I'm in a saddle that will allow for my long legs [a general purpose will do, preferably a jumping saddle though!]... my butt fits in a 15 inch dressage/turnout saddle but my legs do not!
edit; you can has the 14.2 blingy bucky mare I'm eyeing off as a project, 4yo only lightly broke... no mucky tails that should be white but are actually black?! hahahahah
---
REGAL PRINCESS