Yes, I am certain that the mare is a chestnut! The baby can only be a chestnut or a palomino.
But I think - as you all write - that baby is a palomino.
Whoa. Look at how her neck is developing. Lol.
Shes gonna be one stout little girl.
Posted via Mobile Device
Quote:
Whoa. Look at how her neck is developing. Lol.
Shes gonna be one stout little girl.
Posted via Mobile Device
I sure hope so! She is super tiny, but if she becomes a tank, I probably will be able to ride her,
She was about 80 cm when she was born. Normally a foal with her mother and father would be 90 cm.
But one more thing.

She (baby) looks like a sabino right? She got four white legs, up over one knee in front, the other is probably to the middle of the knee.

On one of her back legs the white almost goes up to her, I think you guys call it stifle? On the other back leg the white goes up over her hock.

She also got white markings on her belly.
---
Last edited by StellaIW; 06-21-2012 at

04:47 PM

.
Awh. She looks like a lil little foot ;)
Posted via Mobile Device
Do you have a good picture of the white on her legs? Sabino will cause jagged edges and a roaning appearance where the while and gold meet.

Splash on the other hand, will cause white legs, belly white and excessive face white, but its a very crisp, clear line typically. Splash is bottom heavy and often looks like they were just dipped into a paint bucket.

She may carry splash and sabino but with her golden color, its difficult to tell which pattern it is, or if its both.

I personally think she has both. My reasoning is her face. The white is very bottom heavy and goes under her jaw, indicationg splash. But you can also see jagged edges as opposed to a crisp line which indicates sabino too...
Posted via Mobile Device
She is soo light so it's hard to see the white on her legs. But I have a few (bad ones) of her as a newborn.
She was very sick, tiny and thin when she was born poor thing. (Premature)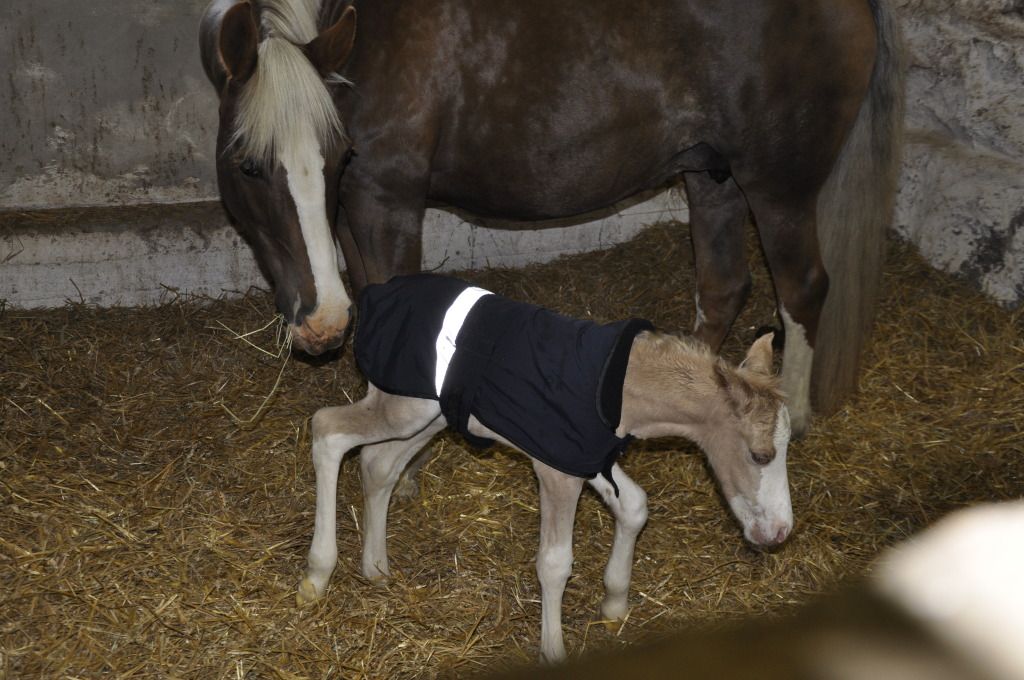 Im thinking she has a strong splash gene. From the above photos, i dont see the sabino roaning or jagged edges that many sabinos exibit. Doesnt mean she doesnt carry sabino though. I still think she does.

So my best educated guess is sabino and splash. If shes ever used for breeding in the future, she should be tested for frame. Frame can hide (even on solid horses) so its best to test and be safe as opposed to sorry.
Posted via Mobile Device
She is gorgeous. And with a dark shed like this, you will definitely know where her white goes to
---
Mods, grant me the serenity to see the opinions I cannot change, courage to change the ones that should change, and the wisdom to spot the trolls.