Quote:
Originally Posted by
Peppy Barrel Racing
View Post
It looks like she inherited sooty from momma
Posted via Mobile Device
Her mother has a gray tail and white mane. And it looks like my filly is going for a gray mane and a white tail.
And she has inherited her mothers dapples!
Quote:
Originally Posted by
SunnyMeadeFarm
View Post
Shes gorgeous! I am unfamiliar with Pali's and this thread has been really interesting to read everyone's pali stories, But is that a counter shading or dorsal stripe appearing? hmmm, almost looks like she is pretending to be dun!
It's counter shading, it's pretty blurry.
She is a gorgeous filly!!!
---
Noey's Herd
Thank you!
She has now lost all of her "fuzzy stuff" on her belly.
And look what I found on her today,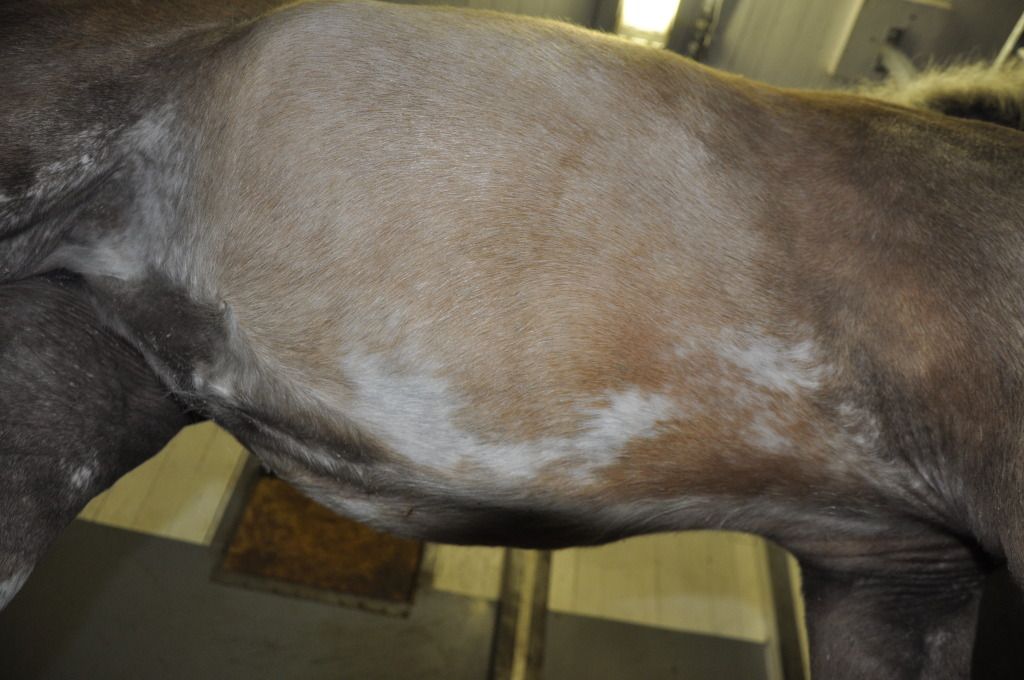 I new she had a few spots and dots of white on her belly, but this is a lot more than I thought!
Baby fuzz is sure great at hiding belly spots! I love how much white she ended up with!
You are so lucky you live so far away.. lol I would come and steal her to give her loves... I can't wait to watch her as she grows into herself..Gorgeous filly.
---
I am Sparkly Meanie Doodie Head and I approve this message!
Adorable!
Posted via Mobile Device
---
Noey's Herd
I just read through this whole thread and I'm obsessed with this filly. I'm glad the OP is keeping everyone updated..... this is a really fun guessing game. Haha
---
EQUI
LOVE
Wow interesting read and interesting baby! She is a beauty! I found a pic of another sooty palominoo foal, I'll post it. I also wonder if your girl maybe has sabino?
frostymist.jpg
---
"It is the difficult horses that have the most to teach you" - Double Dan Horsemanship
Here's some more updates for you all!