Spice my mare, has a bunch of bend or spots and bird catcher but she also has two large "spots" that are different they are mostly white, and another on her face, it is hard to see the defined edges on her face in the picture. But you can see the one on her side easily. Sorry about the pictures they are when I just got her and she was really under weight. The spots are just interesting, I forget what someone on here called them.
Oh my your horse is really gorgeous smrobs!!! I love him!
I found this picture a while ago and I absolutely fell in love with the odd markings horses can get. I have seen the ones mentioned here, but I had to post a picture of these bird catcher spots, I think they are just gorgeous.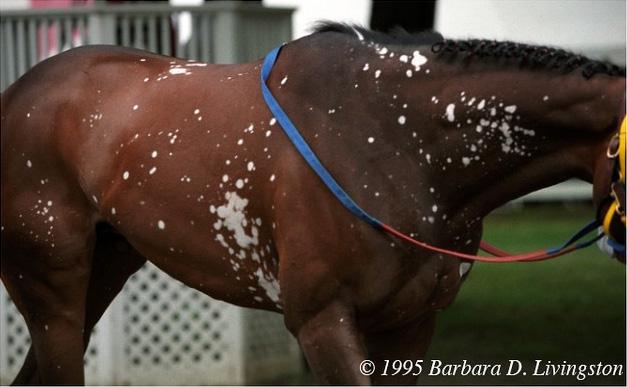 * Homozygous-Horses**|**Internet Directory**|**WEIRD! Unusual genes in Horses
I also saw a horse competing at Spruce Meadows on TV and he was the most amazing colour. I researched him for ages, and now I can not for the life of me remember his name. He was a black with a white stripe right down his tail! Does anyone know what I am talking about?
I just found an awesome page for colours
Horse Colors
And look up gulastra plume into google images. Its pretty much a bay horse with just a flaxen tail. haha
But that colour chart doesn't have my horses colour on it :(
He was kind of a gulastra plume, but most of his tail was black there was just a long chunk right down the middle that was grey...