Opinions on color and pattern, please :)
---
Hey, so I have a 4 year old Miniature mare that is tovero, but I am interested in what color and pattern others think she might be. Now, she's registered Sorrel pinto, out of 2 blacks, so IF they really are both black then she's either black or red. HAHAHA but she's not, in my eyes, she's brown. In looking at her pedigree, her maternal grandsire is registered Chestnut Dapple, which i assume could possibly be Silver Bay. Other then that I can't find any info/pictures of horses other then her Sire. Her registered name is Thorn and Thistles Celtic Queen, if you want to look her up.
here are some fresh clipped pictures of her, and i'll attach her baby pictures, ( in the baby pictures IDK if the background horse is her Dam, but she looks silver bay to me, so unless her papers are wrong listing her dam as black it's not) In the Fuzzy picture of her, where her front is clipped and she's a mess, I had just gotten her and she came to me with Lice and covered in Mud. Sorry.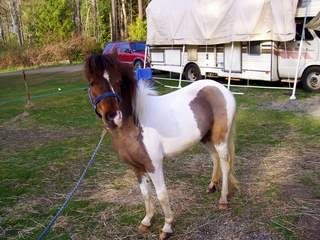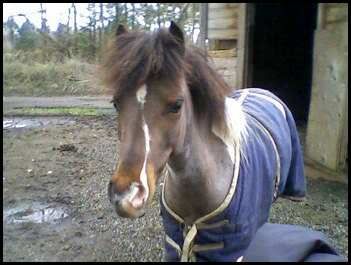 She honestly looks bay to me. Is it possible one of her parents was just a very, very dark bay/seal brown that was just registered as a black horse?
---
"Always be yourself. Unless you can be a unicorn. Then, always be a unicorn."

You're right, she's brown. And I would assume that is her mom, and you're correct, silver bay :) Never go by the colors on their papers, they're more often wrong than right!

She is definately tobiano and splash. Always test for frame if you plan on breeding. Sabino is probably in there as well.
like my silver bay roan appy who is registered Red roan. haha but being a gelding no big deal in changing that. So if she was crossed on my bay stallion who threw a red foal...color possibilities would be...like 30 different colors...great...ahaha