I thought the Paint registry was partially closed now, and they don't register crop outs from JC or AQHA, only horses with at least one Paint registered parent?
---
Mods, grant me the serenity to see the opinions I cannot change, courage to change the ones that should change, and the wisdom to spot the trolls.
Chiilaa is correct. Only horses with at least one APHA registered parent with an approved out cross can be registered APHA. The APHA no long accepts crop outs of JC or AQHA breedings.
Showing
Join Date: Jun 2011
Location: Cariboo, British Columbia
Posts: 11,762
• Horses:
3
Registered Paint & Pinto
Quote:
I am right with you. I was talking to one of my aunts two months ago about the horses she was selling. She had bred some mares years ago and was telling me about their sires. She told me that one of the sires was a pinto that was half paint, half quarter horse. Yeah, that makes him a paint. Then she told me that the sire of her other gelding was a "pintabian", but was half Arab, half paint. Not a pintabian, and corrected her that her gelding out of a pinto grade mare was also not a pintabian like she thought he was. Apparently she had thought that a pinto that had a bit of arabian would be considered a pintabian. In reality, pintabians are almost pure arabs (I think they are over 99% ). So I am annoyed when paints and pintos are used incorrectly and half or quarter arabs are called pintabians.
Posted via Mobile Device
Gahhh now i feel bad for calling your mare a paint in the other thread! I hate when my auto pilot kicks in
This is my very prego paint but not pinto
hehe
Spice.jpg
Don't forget the Breedstock Pintos. This young lad is pure bred Arabian but also could be registered as Breedstock Pinto because his father is a double registered Arabian and Pinto, but this colt is the ONLY solid get of his father. He is NOT Pintabian.
Pinto but not Paint, both could be National Show Horse registered if I desired, both could also be Half Saddlebred Registered if I desired, they are NOT 1/2 Arabians, though they have Arabian blood. Mom is 25%, colt is 12.5%.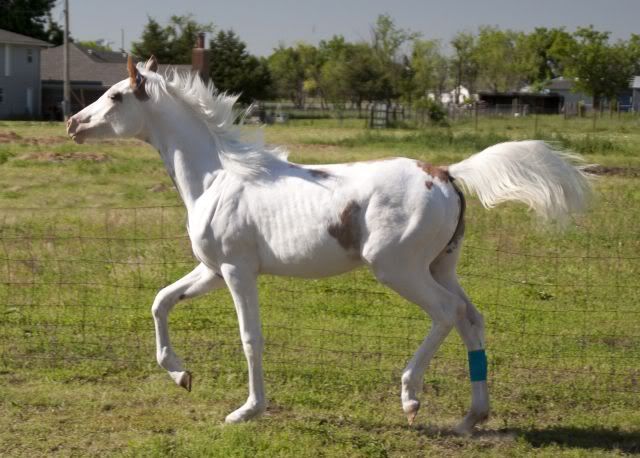 Pinto, 1/2 Arab (actually about 7/8 if I remember correctly, might even be 15/16), could be National Show Horse registered but NOT a Paint.
---
Quote:
Originally Posted by
Kansas Spice Girl
View Post
Gahhh now i feel bad for calling your mare a paint in the other thread! I hate when my auto pilot kicks in
This is my very prego paint but not pinto
hehe
Attachment 87102
It's totally okay, she looks nothing like a part arab, totally took all her looks from her paint sire. Took riding lessons at an Arabian show barn with my mom, me on my totally solid paint (other than her star) and my mom on her half arab pinto. I actually found it very funny that I had several arab people think my solid paint was half arab and we had to tell them that the pinto a partbred was but mine wasn't. LOL!
Posted via Mobile Device
Quote:
Sunny Draco basically nailed the point I was trying to get across home. There is nothing wrong with calling a paint that is pinto colored a pinto. Pinto is the color pattern and that doesn't bother me at all. It's when someone calls a horse that is not a paint a paint because it has pinto coloration that it irritates me. (Basically you are looking at one of my biggest horse knowledge pet peeves.)

And as for paint horses, the breed's bloodlines are established to only allow the inclusion of quarter horse lines or thoroughbred lines. Which basically means you can register a foal that is QH x Paint, TB x Paint, or register a full bred quarter horse or thoroughbred that ends up with paint pattern markings.

Really it's kinda comparable to saying that a horse that is arabian x quarter horse is a freisian because it's black. It sounds ridiculous doesn't it? That and shouldn't logic dictate that if the color name has been around a lot longer than the breed name that people should be calling their pinto mustang, or any horse really a pinto rather than a recently established breed name?

As I said it bothers me a lot because we used to breed them, and I don't like seeing them mixed up simply because people are too lazy to do a bit of research on things.
I understand, and mostly agree.
The issue I have, and I am not at all trying to be inflammatory, is that many Paint folks make such a distinction that Paints are a "breed" and Pintos are not, when in fact neither is actually a breed.
We have had similar discussions about Appys, which are my "breed". The fact is, that because APHA permits outcrossing with both Quarterhorses and Thoroughbreds, the latter being a disimilar breed, and ApHC permits outcrossing with Arabs, Quarterhorses, and Thoroughbreds, neither Paints nor Appys (as registered by the registries) are "breeds". An APHA Paint, just as an ApHC Appy, can in fact have very little Paint or Appy blood. In other words, a half Paint/TB registered as a Paint can be crossed with a TB, resulting in a 1/4 Paint registered as a Paint...then the same in the next generation, resulting in a 1/8 Paint registered as a Paint...and so on. At what point does the folly of calling a horse a "Paint" or an "Appy" stop? 1/8th? 1/16th? 1/32, which is only 3% Paint?
I am not trying to be argumentative, but am just pointing out that registries thast permit outcrossing generation after generation are not truly either developing or maintaining a "breed". Quite the contrary, they are merging breeds together, thus are, quite frankly, color registries rather than breed registries.
Now with that being said, that does not mean that there are not Paint or Appy horses that could be considered a Paint or Appy breed. A Paint to Paint cross results in a Paint, just as an Appy to Appy cross results in an Appy - assuming of course it is done for several generations.
But just because a horse is registered as a Paint by APHA does not necessarily mean it acutally is a Paint, any more than a horse registered by ApHC does not necessarily mean it is an Appy. A horse that is 3% Paint is NOT a Paint...period. And no papers or registration on Earth can make it a Paint. Same with Appys.
Until these registries stop permitting outcrosses - or as an alternative follow a similar outcross registration policy as AHA, neither will in reality be a "breed" registry. There is nothing instrinsically wrong with a registry that is not a breed registry, but for the registry or its membership to portray it as a "breed" registry is rather absurd...
To add to that Face, there are full blooded JC horses that are dual registered APHA. Papers do not make them an APHA horse. They are TBs with color...
Sunny Draco
I like both of your pictures
---
Country Woman


Quote:
Registered Paint & Pinto
Wow I love her markings on her
---
Country Woman