Here's Ray, my 2 or 3 (Still dunno.) 14.3hh AQH gelding. ;) Taken in the winter, but he's shedding along nicely. -_-
Just thought I would share my little mare since I came across this thread. She's a coming 4 yr old QHxChincoteague pony. Our best guess is that she is a genetic palomino with the pearl gene and maybe the champagne gene. Her mother was a Palomino and her dad was supposedly a red and white paint. She looks like a cremello, has champagne looking freckles and the green/blue eyes of a cremello but with the coloring of her parents can't be a true cremello. Supposedly the pearl gene mimics the cream gene and can mimic some champagne traits as well so our best guess is cream and pearl together. She's a real doll and has been doing wonderful under saddle so far despite the fact that she only has a few rides on her. She's also for sale in case anyone is interested
.
I think I have already put a picture of my boy up but I thought I would put another one of him up and one I have found of my friends quarter horse mare. My boy is a bit dirty in his picture.
---
My two horse Apache and Sammy are my world
along with our dogs Patch and Bear.
But I will always love you Jimmy R.I.P
Weanling
Join Date: Apr 2010
Location: Somewhere on Vancouver Island
Posts: 601
• Horses: 0
Our palomino pony Latte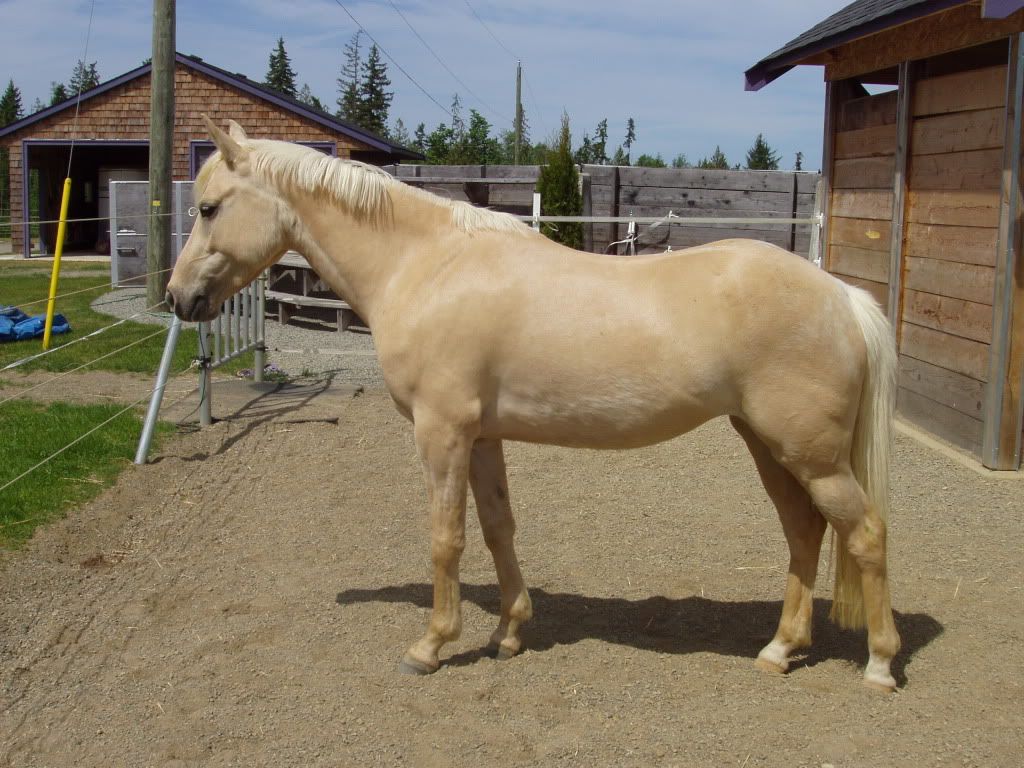 Super Nova
Beautiful palominos!! My boy STAYS dirty!! (I'll have to try and figure out how to post to this...)
---
"If you talk to the animals they will talk with you and you will know each other. If you do not talk to them you will not know them and what you do not know, you will fear. What one fears, one destroys." - Chief Dan George