A question about chestnut
---
This fellow was born a perfectly normal chestnut foal, but surely he's having a lend of me at 4 months old now that his foal coat has gone.
He is a bit wet, but so are the other chestnuts he's in with.
My question is, do you think he will eventually lighten to a more regular chestnut (as I've been told often happens) or is he now likely to remain this rather well, un-chestnutty colour?
Thank you for your advice.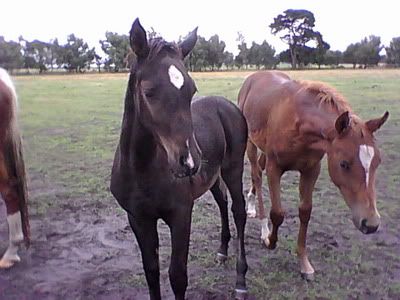 He looks like he'll be a lovely liver chestnut when he finishes out.
---
I agree, I think it's just the liver color :) I like the livers myself.
---
Pssh.I didn't pick up the wrong lead
It's called a counter canter...
...A very advanced maneuver.
Both his parents are normal chestnut and he was born normal (light) chestnut, pretty much the same colour as the filly he's next to in the first pic.
I thought he might just be going through a phase.
Maybe not.

ETA: I like liver chestnut too, I just didn't think they looked kind of blackish. I had a liver chestnut gelding once, but he was still recognisably reddish.
---
Last edited by sunny5; 03-21-2012 at

12:16 AM

.
Remember the foal she is usually the darkest shed of all. He could go back that light or her could stay a dark liver or any where in between.
And yes, livers can be so dark as to appear black.
What you have there is a dark liver chestnut foal, doubt it's going to lighten up unless you leave it out in the sun too long. Liver chestnuts are born looking "normal" (I suppose this has something to do with chestnut horses skin pigment being lighter at birth) but after their foal shedding they start to darken (and some continue to darken for a couple years).
---
---
Last edited by iridehorses; 03-21-2012 at

06:07 AM

. Reason: Removed link.
He's definitely going to be a darker chestnut, not the copper color your hoping for.
---
"The greatest pleasure of a dog is that you may make a fool of yourself with
him and not only will he not scold you, but he will make a fool of himself too."
-Samuel Butler
Oh ok, interesting. Thanks. Goes to show how much I know, I thought liver chestnuts needed at least one liver chestnut parent. And I thought they would look different as foals to normal chestnuts.
I think I might have to change his name from Tabasco.
Thanks z, I like it too, but he's not really red anymore that's why :)