Question, Sabino Roan? What color combo is this horse?
---
We have a new horse coming, she has had her feet done and she is in Quarantine now, so we will not have her until later this week. But I am trying to figure out what color she is. At the auction they said Sabino roan? I am trying to guess breed too. So far we have heard, paint, paso fino or TWH.
Other side of Mare
---
She is 14.3, this is her other side. She is doing well gaining weight.
I'm going to guess, sabino, roan and because of the big spot on her right side, pinto or possibly Paint if she's actually QH or TB breeding.
---
Honestly, there's a solid chance that it just being caused by sabino. I don't see anything that suggests classic roan to me. Sabino can and does cause big belly spots like that in addition to the patchy roaning.
Head shot
---
Here is a close up of her head/neck.
I'd also just call her a bay sabino. Sabino will cause the large roany patches, along with the ashy coloring of her mane and tail.

I'd venture a guess that one of her grandparents was a Clyde. She's got just enough of a drafty appearance to indicate the presence of draft blood, but she's small enough that she's probably not half.

She's a cutie, I can't wait to see how nice she looks when ya'll get some weight on her.
Ok since NDappy or Chillaa have yet to chime in I am going to venture Rabicano and Sabino. Unless the two of them say something else then that is my guess also. I reserve the right to change my mind. LOL Shalom
I have no idea but she is beautiful! If I had to guess, I would say sabino and maybe splash with those white legs up past the knees?
---
"Dream big, Work hard and Have FAITH"
"When my story's told, I hope he'll say well done and welcome home." ~ Templeton Thompson
She looks like a mustang to me. She is not a built in the hind end as most stock horses and i don't really see a gaited horse head on her.
here are some pics of mustang conformation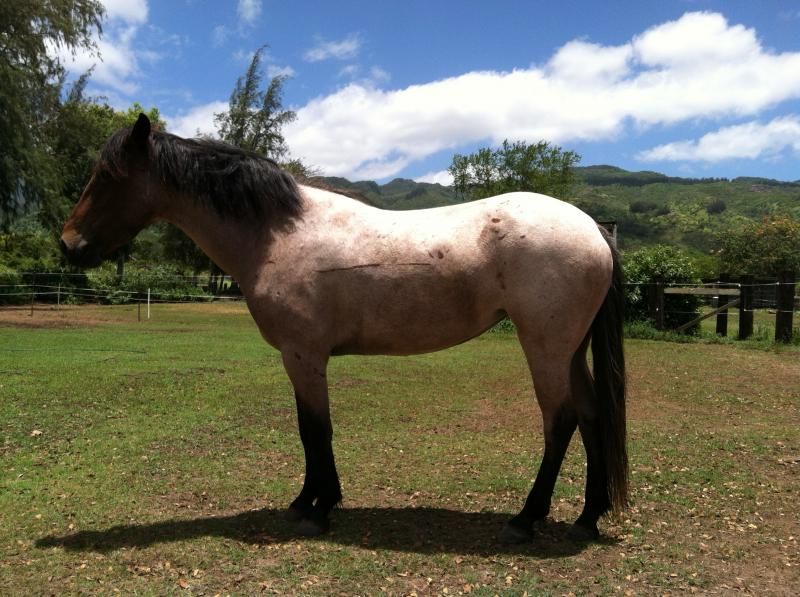 I think I see a bit of draft in there too.. Maybe some sort of Mustang x Draft?