red dun?
---
I was wondering-- if Dun and a chestnut/sorrel makes a red dun, would a liver chestnut make a darker variation of red dun, or would you not be able to tell the difference?
No way to predict if it would be a liver red dun or not. No way to predict what shade of red a breeding will produce.
What would it look like, if it happened? Have you ever seen one?
they would produce a 'chocolate red dun' every time? or could they have a light color red dun?
There is no guarantee on color shades with any breeding.
I thought since the liver had darker shades on its legs mane and tail-- it would react differently to the agouti than a light colored chestnut. Thanks for clearning that up.
Quote:
it would react differently to the agouti than a light colored chestnut.
Agouti doesn't express on a red-based coat. He's advertised as A/A because they will have tested him to see if it's physically possible for him to throw black or grulla. It isn't - to a homozygous black [E/E] mare with no modifiers [ie, plain black] he can only throw bay and bay [yellow, 'zebra', classic] dun. Depending on his dun zygosity.
Agouti on a black base gives you bay [or brown or wild bay depending on which type of Agouti you're actually talking about]. In that effect it's sort of the world's most common dilution gene! It restricts black to certain parts of the horse's body, therefore diluting the rest of the coat to a brown or reddish colour.
We aren't sure what determines the shade of red a red horse comes out as, certainly sooty can have a genetic factor and is implicated in turning a 'normal' chestnut liver, but the inheritance of the gene is thus far unknown, and having a gene and expressing it can be two completely different things.
My filly for example almost certainly has sooty. Her tail is almost black [photo does NOT do it justice] and her mane has black strands in it, but that's the limits to HER expression. She also probably has flaxen, given that she has a lot of gold and white in her mane as well as normal 'red' strands, shades of dark brown, and the black strands.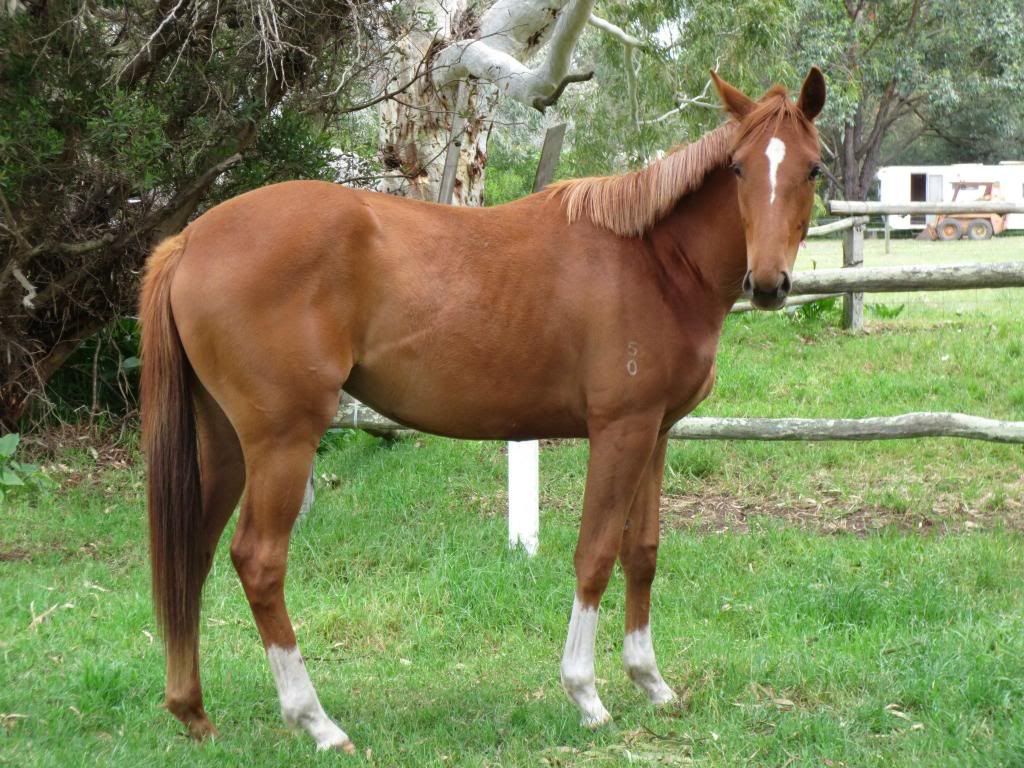 She's not dun, but she has a weak countershading dorsal stripe, which doesn't show up much in person but seems quite strong in photos taken from behind. Unfortunately I can't find the photo I have uploaded that shows it.
She's a Thoroughbred, and the dun gene does not [to my knowledge] exist in the breed. It's certainly not in her bloodlines on either side.
A chestnut horse without flaxen or sooty will have a mane and tail that match its body, or at least that's my understanding of the genetics.
---
REGAL PRINCESS
And the below horse indicates how extreme sooty can be. He is chestnut.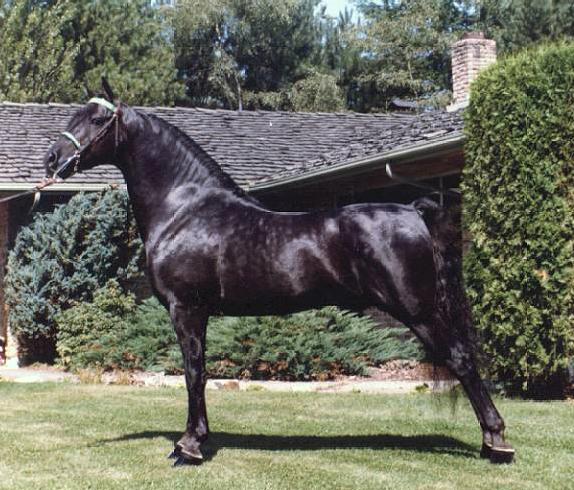 Same gene [or so we believe], completely different result.
---
REGAL PRINCESS
Here are two red duns I know, one is rather dark and the other is a rather orangey color (light enough to the point of being mistaken for my buckskin from a distance).