Red roan
---
I was givin a horse, the man said she is a red roan. With her winter coat she is all red but he said when she loses her winter coat she is red and white. Is that normal? I didn't know a coat could be one color but then when it falls out it's another color. If you pet her backwards by her skin it is white but that just seems wierd to me
Most horse's coats change seasonally. Roans generally change too, some to great extremes.
---
Mods, grant me the serenity to see the opinions I cannot change, courage to change the ones that should change, and the wisdom to spot the trolls.
Wow I never would have thought that. I can't wait to see what she looks like in the summer! I have never heard of a red roan until I got her.
We have both a blue roan and a red roan. Each looks solid colored in the winter and then their bodies shed out lighter in the spring. In the pasture right now, it looks like we have a black and a sorrel. :)
Do you have any pics of what they look like in the summer?
Our blue roan and our red roan
Oh they are beautiful!!!!
I have an overo paint that roans out in the summer, but right now her non white parts just look solid. Assuming the guy wasn't lying to you for some reason, you should definitely have a roan! It kinda cool that her color will be a surprise when she sheds out :)
Here's Fancy in the winter and in the summer. You can't see the roan hairs well in the summer, but you can tell she is much lighter and up close she is very roaned!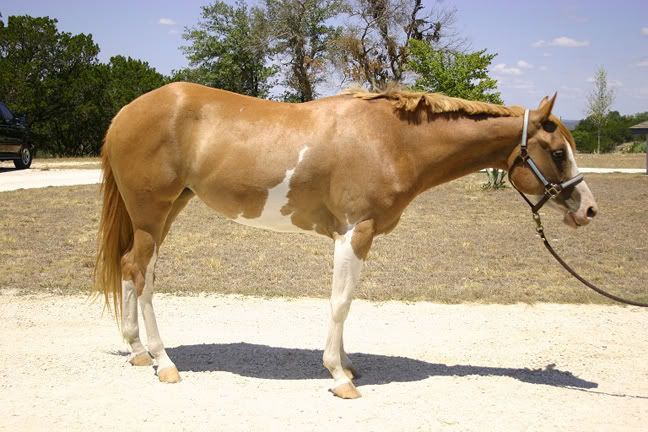 I enjoyed all your horse pictures
---
Country Woman


Similar Threads
Thread
Thread Starter
Forum
Replies
Last Post
Roan

draftrider

Horse Colors and Genetics

6

10-04-2011

12:46 AM

Is Jet a Bay Roan?

Peppy Barrel Racing

Horse Colors and Genetics

20

08-23-2011

01:02 AM

I think she is a roan

LostTitanic

Horse Colors and Genetics

2

07-09-2011

11:54 AM

Red Roan?

trIplEcrOwngIrl

Horse Colors and Genetics

10

12-16-2010

08:32 PM

Roan TB?

QHDragon

Horse Breeds

7

08-07-2009

12:58 PM