View Poll Results

: Do you think there a gene (satin or otherwise) that causes a metallic sheen on horses

Yes
16
32.65%
No
13
26.53%
Maybe/Not sure (I'm waiting on more research to be done)
20
40.82%
Voters: 49. You may not vote on this poll
Healthy horses are just shiny. This is my old lease horse pulled straight from the pasture. No coat supplements or extensive grooming there. Just a healthy horse. Until it is proven in the lab testing the genetics of such a thing, there really is no argument. Surely it is interesting, but outside of the Akhal-Teke's, I just don't see it.
---
I give myself very good advice, But I very seldom follow it
There is no "Satin gene" but there is a "Pearl gene" which also produces a nice sheen/shine to most colored horses
---
Guy 36 yr. old TB gelding, Cash 26 yr. old paint gelding, Kodie 7 yr. old AMHA/QH gelding, Hillary 6 yr. old X mare. R.I. P. Street Chief...1/5/85-6/26/11 TB gelding. Hating this hot and humid weather!!!
Horse color genetics is something I have absolutely no deep knowledge of. I have to bow to others who have taken it upon themselves to do the book work to figure it all out.

However, I have seen horses who have had a metallic sheen that was very different than the usual "shiny" coats. I have seen this mostly on palominos. It really resembled what I have seen in Akhal Teke horses.

Is it a satin gene? Who knows. Has there been extensive research on all horse breeds that precludes the very possibility that it could exist? I just don't know. I just stand and appreciate a lovely coat when I see it.

I hope detailed research will, someday, prove the possibility that it may exist.
Green Broke
Join Date: Oct 2010
Location: Some times Llanelian - North wales, sometimes Hull in East Yorkshire (UK)
Posts: 3,679
• Horses:
5
TBH I dont realy care and I hope that the DNA research is never done!
All it will do is kick off anouther craze where breeders will breed anything with the gene irrigardless of the quality of the horses. 5 years after the finding of this gene there will be thousnads of unwanted, ill bred and ill conformed but mettalic horses.
It started with coloureds, then with pally's now Duns/buckskins.
With coloureds it has caused all sorts of issues (OWLS being the worst).
There are now so many coloureds and pallys that they are 2 a penny and still they are being bed!
---
RIDE your horse FORWARDS and keep him STRAIGHT


good nutrition and grooming will put a shine on the hair.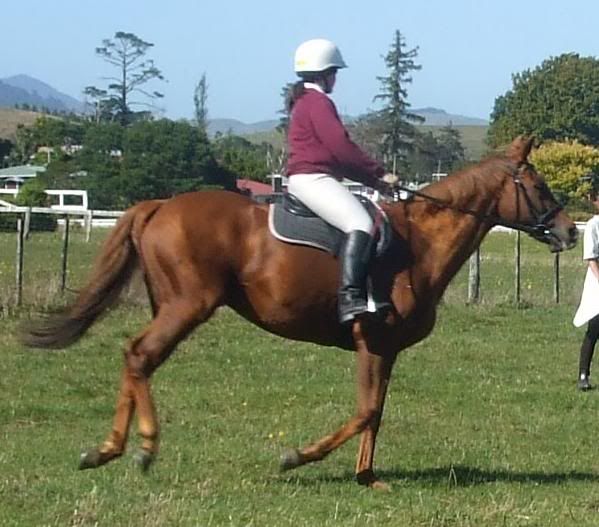 This is kind of what I was getting at with Cessna and her coppery shine particularly on her neck and around her flank.
Excuse the horrible position, the saddle did not fit me.
---
Last edited by CessBee; 09-19-2011 at

03:33 AM

. Reason: added another picture
Looks like a regular chestnut with a healthy coat to me.
---
Flirt-Hugo-Phoenix-Romance-Fanta-Nippa-Shiloh

Trojan 09.11.02 - 26.10.10 // Kody 01.09.89-25.06.12 // Rex 05.11.95-21.12.12

I'm not fussed if she isn't or convinced she has satin, just in person she has an incredible metalic copper shine.
A lot of chestnuts do.
---
Flirt-Hugo-Phoenix-Romance-Fanta-Nippa-Shiloh

Trojan 09.11.02 - 26.10.10 // Kody 01.09.89-25.06.12 // Rex 05.11.95-21.12.12

Banned
Join Date: Jul 2009
Location: In a land far far away, or so I wish.
Posts: 12,825
• Horses: 0
Quote:
Is this what people call "Chrome"? There is a thoroughbred at our barn who most definitely has chrome. He shines no matter the light, weather or grooming. He is chestnut.
Maybe things are different where you are.
Anyone I have ever met considers chrome as white markings. Lots of chrome means socks and a blaze, etc. Nothing to do with how shiny or sparkly the horse is.
Chestnut is a color that shines well. A healthy chestnut colored horse almost always sparkles.
(Versus a grey horse who can groom until you are exhausted and they just never seem to shine.)