I had a fewspot as well, here's her picture. She was a palomino fewspot. Her legs, throat latch area, and ears were golden and she had golden specks on her neck and flank. Beautiful girl but she was green and I was only 12.
I had never even heard of a fewspot until recently! Didn't know that's what they were called. I rode a leopard appy growing up, but honestly don't know too much about them. They're such a cool breed.

Sort of off topic, but I was curious how Appaloosa white is different from grey. I always thought 'white' horses were greys. Anyone care to explain this in laymens terms to me?
It's not progressive. Fewspots are born white, and stay that way. They don't get dappled or fleabitten, and their skin is usually pink or mottled.

Gray horses are born any number of colors depending on the base color genes present: bay, chestnut, tobiano spotted, or even, theoretically, fewspot Appaloosa. But the dark coloration of the coat will gradually be replaced by white hairs (and frequently reintroduced as fleabites) as the horse ages. It's a dominant gene, requiring only one copy to have an effect, while fewspot coloration is indicative of homozygousity (two LP genes).

Grays are FAR more prone to melanoma than other horses, though it is much less aggressive and less likely to be fatal in grays than in other colored horses. Fewspots are more prone to squamous cell carcinoma due to the pink skin around their eyes, gentitals, etc. They are also prone to progressive blindness (from cancer or uveitis, an Appaloosa curse), and have night blindness.
A lot of the white-r appaloosas, the ones that had color that is, is due to varnishing (LP). Varnishing tunrns the hair white on the soft areas and tends to leave color on the hard (legs, nasal bones, etc.), and leaves behind spots that would not otherwise be seen.

Grey erases everything. The only excepting is blood shoulder type markings.

Grey on an appaloosa will erase spots where are varnish will leave and/or reveal more spots.
How cool, I never knew that. Thanks!
Fewspots also frequently have, well, a few spots.
Or they may have what appear to be reverse socks and blazes. They are prized by Appaloosa breeders due to their homozygosity.
Fewspot (note black legs):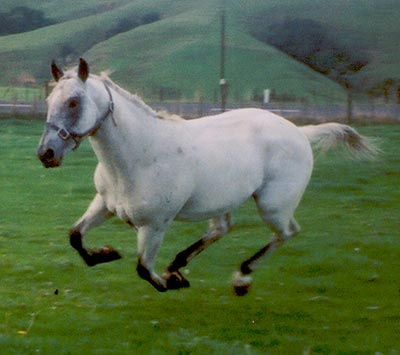 Appaloosa ("varnish") roans:
Versus gray horses:
(note dark skin and no variation in coat color)
Fleabitten: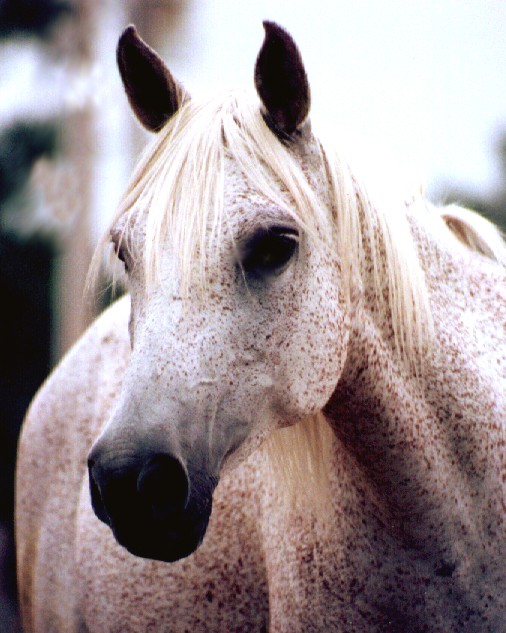 Young gray:
Appaloosa going gray: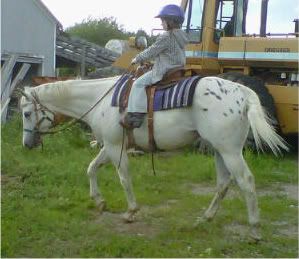 Quote:
Crossover, it's not just LP. You have to have PATN as well.
Yes your right, thanks for not letting me oversimplify..
I'm still learning the Appy genes.
Okay, fewspot carries two LP plus a PATN gene. Now there is no way to know for sure of a PATN gene yet, so your best bet is to get a fewspot from two spotted parents (like the filly I posted) or one spotted, one fewspot with spotted parents.
Now the two LP but no PATN gene is called a snowcap.
Then of course there is the false fewspot/ snowcap which doesn't have the two LP but can have a sabino gene which gives it the apperance of one.
Genetics are fun!!!
Quote:

Now the two LP but no PATN gene is called a snowcap.
No, that is not correct.
Think LP = spots/characteristics, and PATN = white.
An LP LP horse would be homozygous for spots/characteristics, but in the absence of PATN would be solid...