Amber is technically a bay paint, but her spots look black a lot of the time. She looks bay in this picture though!
my 5 1/2 month old filly, not sure about her breeding!
Sundance, a Paint Clydesdale we sold a year ago:
What beautiful horses everyone!!
---
Being horseless is the pits!!
Misty, rescued bay Paint Pony filly, currently up for adoption!
---
Spent a whole hour today laying in a pasture, waiting for a sparkling vampire to show up. Alas, I woke up and looked over, only to find a mound of horse crap. Sigh.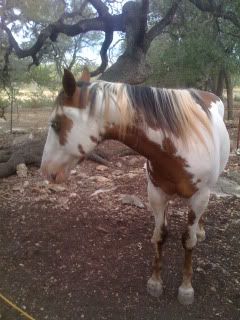 Geronimo
---
~*~Never approach a bull from the front, a horse from the rear or a fool from any direction. - Cowboy saying~*~
This is Sally...Sold this crazy girl awhile ago and this is the only picture I have left! She was a stunner though.
---
Pssh.I didn't pick up the wrong lead
It's called a counter canter...
...A very advanced maneuver.
My bay tobiano Tennessee Walker, Lady:
---
RandomRider