These are Pilgrim's best "Spirit" photos.
Here's the girl who pretty much taught me everything.
IMG_3754.jpg
Do buckskin coloured dogs count?
IMG_4190.jpg
---
This works.
Here's my 10 month old Dunskin Jackpot and Jet's mixed in there as well. Ignore the scrapes he had it rough before he came home with me. He is a sweety and hopefully a future barrel horse. He's definitely gonna be bigger and stouter than Jet who is 8 months older but they are close to the same size!
---
Noey's Herd
All very nice pics. Here's one of ours. I can't find the original but here's one off my phone:
I really like it but don't tell anyone, he just got done peeing! LOL
Here's another of him on the same ride: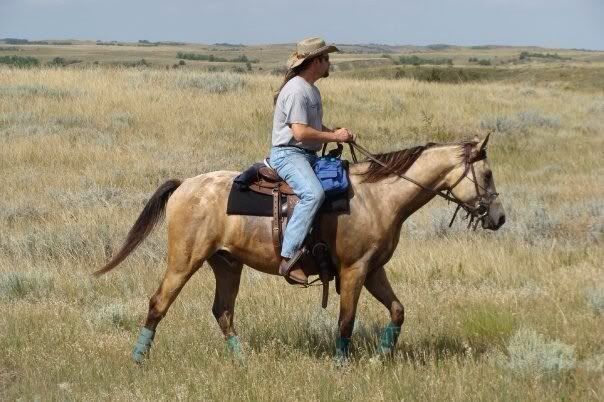 BTW He's a bucksin Appy.
Posted via Mobile Device
This is Arabella, my 7 year old quarter horse mare..I don't have any cute stories like MLbars and she definitely was not my dream horse, but I love her to pieces now
Gotta love those buckskins!! The 2nd picture is of when MLbars and I went camping with Lilly and Bella this past fall, and the 3rd is after a trailering lesson ;)
---
"Don't flatter yourself cowboy..I was lookin at your horse."
Here is Mr. Rango!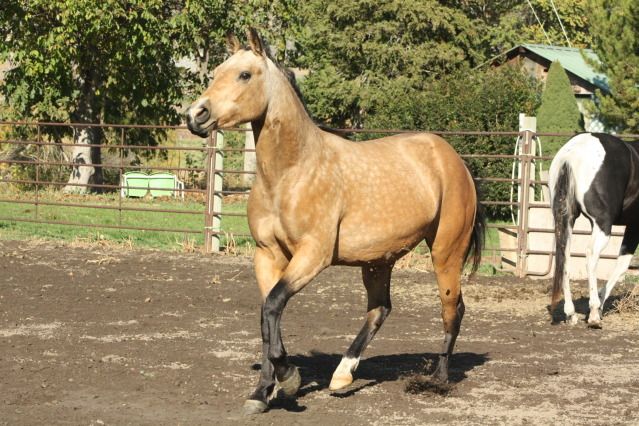 And Mr. Jasper!
---
Conformation is how far the horse CAN go,
Mind is how far the horse WILL go,
Training is how far it DOES go.
Here is my brown buckskin aka brownskin aka smokey brown gelding :)
Winter
Summer
Quote:
Just for fun (or if your bored like me), show me your beautiful buckskins, duns, grullas, ect :)
Don't know if you've seen it, but when i was little, after watching the movie
Spirit: Stallion of the Cimarron
, i told myself one day i was gunna get me a horse that looked like the buckskin stallion in the film! (I'm sure somebody else had this fantasy too, right?)
So...
Here's my 7 year old mare Lilly :) not identical to Spirit, but close enough!
LET ME SEE YOURS!
Side Note; I love your horse's build, stocky and looks sound both in body and brain with good color to boot!
---
If at first you don't succeed, try, try again
Beautiful! Keep 'em coming everyone. I do love me some buckskins...
My girl Coraline. She was surrendered to us two years ago around and went to a new home between then but came back to us recently when her new owner could no longer care for her. Once summer comes again Id like to do some barrel racing with her.
zxzxz.jpg
untitledcvf.jpg
IMG_0242.jpg