Yearling
Join Date: Jan 2009
Location: Tri-State (IA, WI, IL) area
Posts: 788
• Horses:
7
So me your markings!
---
I was browsing the forum, and noticed a lot of horses with really awesome markings. My favorites are the ones that make an image - especially the ones on their faces, but I suppose I'm biased.
So share your horses and tell us what you think their markings look like!
I'll start ya off with mine:
Ruby / Rubaiyate
I've always thought her markings look kind of like a candle and flame, with a lot of wax 'melting' down her nose.
And then she had her first foal, Bandit
Who's star looks like a crescent moon.
(You use candles at night, so I thought it was fitting.
)
And then there was Dante
Who, I swear it looks like *something*, I just can't decide exactly what. Maybe a small candle flame?
You're welcome to take a stab at it though!
I think a sea horse on this side
Haven't found anything on this side yet
Posted via Mobile Device
Yearling
Join Date: Jan 2009
Location: Tri-State (IA, WI, IL) area
Posts: 788
• Horses:
7
I just realized the typo in the title of this thread, and now it's going to bother me. >.>

It kind of looks like there's a dog on his side opposite the seahorse -- the head is on his flank, and then it has a brown saddle spot, and it's tail sticking up right in the middle of his stomach!

He (She?) is a cutie. :3
Oh yeah! Kind of like a little Scottish terrier or something! That's awesome! She is a girl. This is the fun part of owning paints :)
Posted via Mobile Device
I see a bunny on the left side toward the flank. =)
---
Riding: The art of keeping a horse between you and the ground.
My late gelding Apache(rip) had the coolest looking blaze(well imo.lol) that looked like a whales tail above or by his eyes..or so I thought..welcome to hear what others think it looked like..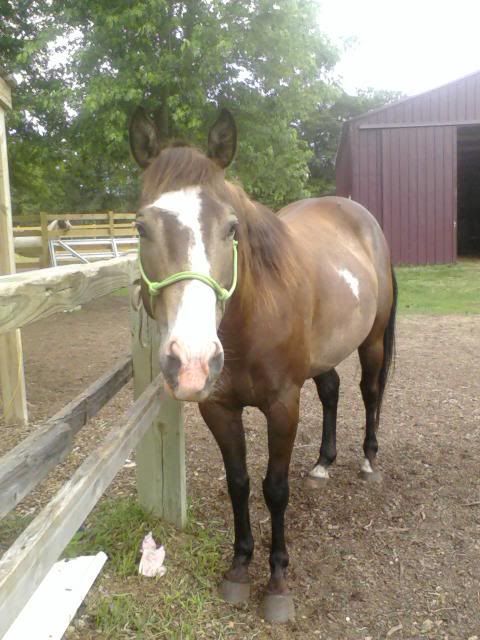 ---
Proud Mom of:
Grey Sky Aledo Elite, a.k.a Wolf- '09 grullo QH gelding
Apache-Paint/QH gelding ♥2003-2011♥ R.I.P ♥
I think it looks more like and ostrich head!
Posted via Mobile Device
This is my purebred sabino arabian Stud colt looks like he has a Chicken on his side!!!
---
Home Sabino Arabians and Paints
When I see Sequoya from this side,I always think it looks like she's wearing high waisted pants, or a turtleneck sweater..
Henny has what looks like a piranha on his right side, and a boot with stars on his left side. He also has an arrow on his butt!
---
There on the tips of fair fresh flowers feedeth he; How joyous his neigh,
there in the midst of sacred pollen hidden, all hidden he; how joyous his neigh