Tri-Colored Paint!
---
Oh my gosh, guys. I have one. I'm sorry I've been keeping it from you for so long, but it's only noticeable sometimes and today was one of those times.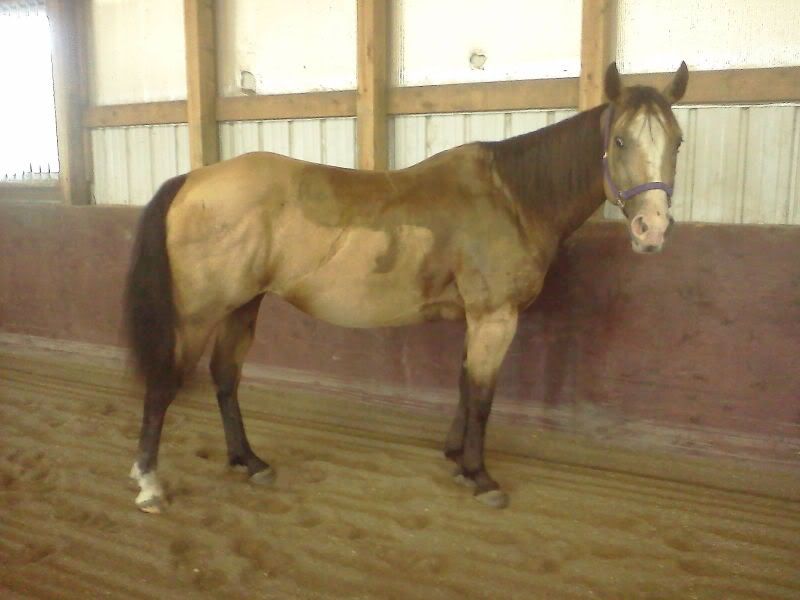 But really..it's just a sweaty Abby who thinks her life is just
so
hard.
Because, you know, only being worked and/or ridden on the weekends is just too much.
Now Po, don't you know that Abby is just above that. I mean her life is miserable. Only ridden on the weekends? that's just too much.
---
I am Sparkly Meanie Doodie Head and I approve this message!
Oh my goodness Po! That's cray-cray! O.o You're so lucky! Are you going to breed her a gajillion times so that her gorgeous coloring can be passed on? I sure hope so!
Speaking of which, Lacey also majikally turned into a paint! I'm not really sure what color her spots are though, maybe someone can help me figure that out? I'm pretty sure it's something rare, I've never seen anything like it before in my million bazillion years with horses!
[I saw the title of this and I was all about to be like "Po, you know that 'tri-color paint' is not actually the correct term, right?". hahaha]
---
Fabio - 13 year old Arabian/Lipizzan gelding

~
Rest peacefully, Lacey.

Abby did just get entered into a breeding contest for a stud owned by someone I know. (Note: Completely as a joke. I do not want a foal and Abby is not exactly broodmare quality.)
Lacey must be one of those pintabians! Wow. Those are hard to come by, those are. Especially in that particular color.
I was told tri-color paint is a correct term. Whether it's applicable to mud patches - hmmmmm.... not sure....
My paint is registered as brown tovero. But in fact she's tri-color tovero. I was told to fix it in her registration, but who cares really. I definitely don't as far as it comes to the colors.
---
"Life isn't about waiting for the storm to pass: it's about learning to dance in the rain..."

"When we are no longer able to change a situation - we are challenged to change ourselves."

"How people treat you is their karma; how you react is yours."

KV, Kiara has a black tail, which is completely normal on a brown horse and required for a bay. It's more than common for a horse with the tobiano gene to have a tail that is half white, but since Kiara's entire butt is white, it makes the black on her tail stand out more than it normally would. She's just a bay tovero.
I am also pretty sure you can't register a horse a tri-colored anyway. Most registries are pretty behind on color genetics and have rules about patterns. She would still be registered as brown tovero, I would imagine. Abby has two spots but they aren't big enough for her to have normal registration, so she's breeding stock. That doesn't mean she wouldn't actually be an overo. (I haven't actually tested her for OLWS, so I'm not 100% myself.)
Yea, I was getting pretty confused too, lol! Poseidon's one of the people who explained to me WHY a tri-color paint is rare, and then I see her asking, then I saw the pics, lol!
BTW, kitten_Val, Kiara looks like my Suki!
She's a bay tovero too! :) I like them better than a true tri color actually, hehe!
Green Broke
Join Date: Aug 2010
Location: Southwestern Ontario, Canada
Posts: 3,324
• Horses: 0
Oh. My. Freaking. Gosh!!

What a pwetttttyyy howsie Po-po! I hope you breed her cause I definitely want one of her kyyooootttt wittle babies!!!
Posted via Mobile Device