This is whhta we call brookes "branch" where her blaze branches over her eye :) Not really unusual, but cute :)
My Mustang Dobe has a buckskin bloody shoulder mark on the side of his face. I laugh at him all the time and tell him it looks like he slept in a puddle of pee.
It also goes up and kinda colors the back of his left ear as well.
---
Always remember that feeling of looking at a big, open country over the ears of a good horse, seeing a new trail unwind ahead of you, and that ever-spectacular view from the top of the ridge!!! Follow my training blog:
http://robertsontraining.blogspot.com/
here is some of big boy... hes a strawberry roan but kiinda weird strawberry roan..........:)
some people ask if hes an appy, but nope
Winter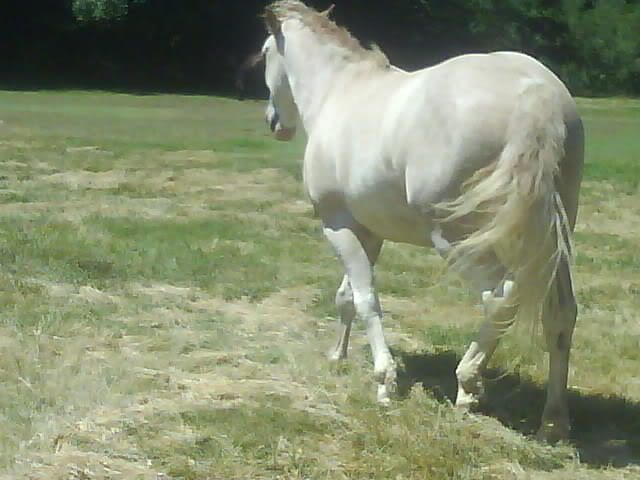 Summer
---
<3Lexy & Big Boy<3
If your horse says no you either asked the wrong question or asked the question wrong. Pat Parelli
Here's Maggie with her random quirky face marking, that wraps under her chin, down her jaw and connects to her white marking on her right side.
maggie home.jpg
and our old gelding Beamer (pinto) with that weird blaze/bald face and Mac, who is also pinto, but only has that weird white roany spot that has completely roaned out now so his head is red and whiteish...
100_1220.jpg
I love Blue's markings. I say he wears his heart on his sleeve.
For some reason I only have pictures of his left side....
Anyway, I love his color too, kind of a pinkish shade of chestnut.
---
RH Queen O Anywhere "Sydney"
2009 Sugarbush draft
I already have quite a few pics up but here is my thoroughbred gelding Apache. Sometimes if you look at him from the right angle his face looks wonky because of the marking.
---
My two horse Apache and Sammy are my world
along with our dogs Patch and Bear.
But I will always love you Jimmy R.I.P
-points at avatar-
Loki is just one big bag of quirky markings. Now if I could just get him to stop trimming his mane off, I'd be happy!
---
Wait! I'll fix it....
Baby Girl's lightning bolt face marking.
It's Horsey Potter!!!
---
Mods, grant me the serenity to see the opinions I cannot change, courage to change the ones that should change, and the wisdom to spot the trolls.
Green Broke
Join Date: May 2009
Location: Winnipeg, Manitoba, Canada
Posts: 4,510
• Horses:
2
I loved *Muscat's facial marking - probably one of the most blatant signs of pinto in his day:
*giggles* Found this and thought it was so funny having these two standing together:
Weird antelope marking:
Ever seen a pinto deer before???
---
Quote:
I hope God tells her to smash her computer with a sledgehammer.