What color am I?!
---
Husbands new horse, Hondo, is undecided. LOL. Old owners called him a buckskin. Someone at the barn told me he wasn't a buckskin. He was a dun. In my experience all the dun's I've seen have been the lighter tan colors. I have seen some terms referring to a 'dunskin'. I looked on the IBHA and they have a dun as the darker color, buckskin as lighter. Duns are said to have the primitive markings, the dorsal stripe, shoulder stripes, and striping on the leg. While I believe the color associate should know what their talking about, lol, he just doesn't match either. Hondo only has a dorsal stripe.
So ok horse forum, what color is he?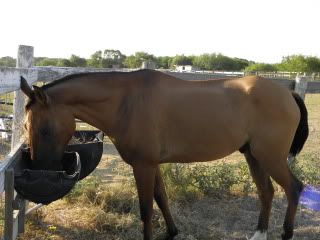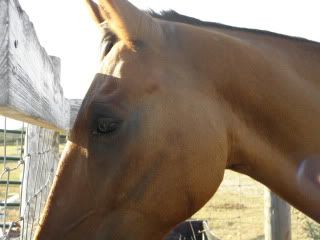 I believe him to be a dunskin. They weren't recognized as an actual color until recent years (in the old days in my area, they would have just been called a yellow dun).
He's a cute looking guy and I'll bet he'll be quite a looker when you get some more meat on him.
That's what I'm thinking too. Now when I'm looking on the IBHA website, they don't mention that color as eligible. So I wonder if I can color register him?
You would register him as dun, I would assume, with the IBHA because he has the dun gene. You could contact them too and ask. I know there are dunskin registered with the IBHA (SBR Formula One, for example), but I don't know what as.
Thanks :) Husband has no reason for him to be registered, but my new paint is, so I thought I'd be nice and get Hondo some 'papers' lol
I looked up pictures of SBR Formula One, and he matches, just darker! Good find! :)
I love SBR Formula One.
Hondo will look fantastic when he has some more weight on him!
Its a waiting game! He's a quararab, so he'll fill out some, but won't have the butt my QH has :( But thats ok. I can't wait!!!! I have no patience! We also have a b/w paint, as well, that is gaining weight.
I agree on Dunskin. Look forward to seeing pics as he fills out!

Love the name :) My heart horse is named Hondo.
---
Life is like a camera. Focus on what's important, Capture the good times, Develop from the negatives and if things don't work out, Take another shot.
Thanks MH. He came with that name, the other one I did change. Husband liked Hondo, so it stuck. Can't wait for some more weight!