What color is this horse?
---
I am thinking about acquiring her :) Present owner said she is palomino, but an odd looking one to me!
Started
Join Date: Aug 2009
Location: In the barn whenever possible.
Posts: 1,910
• Horses:
2
She looks more like a flaxen sorrel to me, but then again, I'm not the best with colors. Do they happen to have a couple extra pics they can send you?
---
"Riding a horse is not a gentle hobby, to be picked up and laid down like a game of solitaire. It is a grand passion. It seizes a person whole and, once it has done so, he will have to accept that his life will be radically changed." -Ralph Waldo Emerson
No more pics...but she said this when I asked her about the color,
"If you look in the palomino rule book (at least the last time I showed on that circuit), they are allowed up to 1/3 dark hairs in their mane and tail. I know when Chelsea was here for breeding when she was younger, she was a bright bright gold. As she got older, she has gotten darker. I know when she came here last year, Al and I were in Missouri on vacation. Shawna called and said she looked like a pumpkin LOL. Her filly that she had out of our sorrel stud, was a champagne color until she was about 2 and then started to darken up."
Flaxen chestnut or just plain chestnut/sorrel.
she is deffinatly a dun. with a little soral but mostaly dun!
I'd agree with people and say she's a flaxen chestnut/sorrel. she doesn't really look palomino. I guess she could be a light chocolate palomino but she doesn't really look like that, either...

She's not a dun because it doesn't look like she has any of the dun characteristics-not even a dorsal stripe.
do you know what her bloodlines are at all?
She could very well be a palomino, just not an ideal colored palomino. My godsister had a Palomino foxtrotter that was almost that exact same darker color, but was definitely a palomino. You would need to know her bloodlines though to be sure. The Foxtrotter was registered, so we had all the information on her.
I know she is registered but don't know the details yet. I will get the info and more pics soon!
She's pretty!
(I have a funny-looking chestnut, we call him a "bucknut" jokingly, because he's purebred quarter, got a chestnut coat and black mane and tail)
One thing I learned here is that she'd need either a dorsal stripe or zebra stripes on her legs to be considered a dun.
Honestly she looks like a dark palo to me, but is that black in her tail? (or just the light?)
If she was a flaxen sorrel/chestnut, shed be a super light one.
To me, flaxen chestnuts look like this
With the distinct red coat.
And duns have the dorsal stripe: (you can barely see it on this horse's back)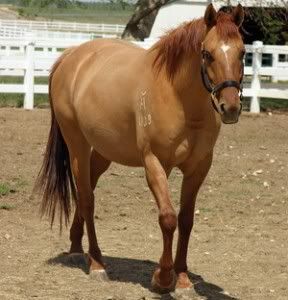 This guy is technically a sooty palomino
So I'd defintely say palomino. But it's fun to have an out-of-the-box color like that!