Quote:
Originally Posted by
RubaiyateBandit
View Post

I looked this up out of curiosity. Pretty informational if you're interested in the genetic side, but basically it boils down to AQHA saying dorsal stripe = dun, no dorsal stripe = buckskin.
I'm pretty sure I read a while back that the AQHA will accept a buckskin with a dorsal stripe as a buckskin not a dun, provided it doesn't have any other dun factors of course.
Wet pics aren't always the best to judge off of, but Fiona is definately dun! And it's possible she's buckskin dun (any idea what color her parents were?).

What breed is Misty? She looks like a smutty buckskin, but she also looks like she has some app charactoristics (which is why I'm currious about breed).

Both are gorgeous!
Misty Moo is deffffff Appy girl. :) I will get you guys some dry pix this weekend and add them to the thread <3
Oh I love the color of the solid one very unique and beautiful.
Misty looks to be a smutty buckskin which is also a hard thing to find. QT is a smutty buckskin but she will grey out eventually.

Fiona is most likely dun.
We let the girls drag ropes while we sat in the "front" and allowed them to get some grazing time in. It turned out to be a really nice day :)
Before bath time :
And after bath time: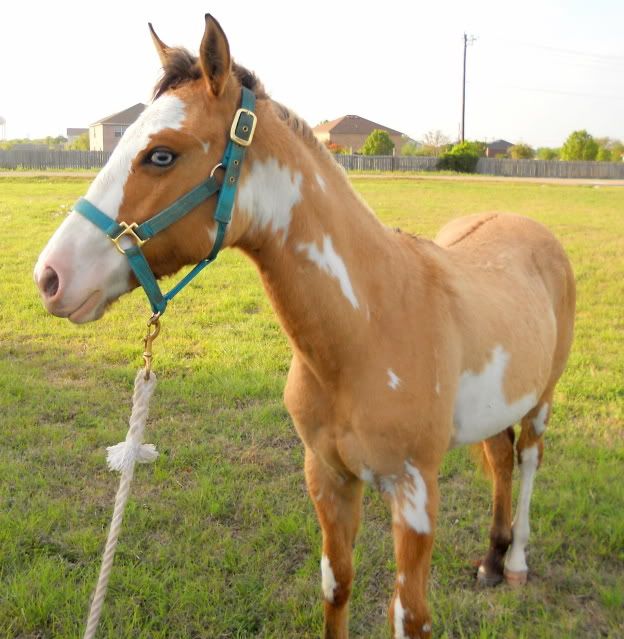 And I have a video of Fiona being dorky and deciding to lunge on her own when I went to grab the rope...but then she poops. It's uneventful but pretty cute anyway. I'll post it soon :)
heres fiona being a brat and pooping as soon as I video tape her....
HTML Code:
http://www.youtube.com/watch?v=3y8vOkhJwts
How old is the paint?

The solid is a sooty buckskin. I am thinking the paint might be a dunskin and not just dun...
I see two duns...the latter being a dunskin as mentioned above
The first one could be sooty dun(the solid one) but has no dorsal strip so probably sooty buckskin. She does have shoulder shadowing though. The other would be a bay dun, probably from a wild bay.
---
"A horse can bring you down your path, but you can't bring a horse down your path."