Green Broke
Join Date: Aug 2011
Location: Middle of Nowhere, Saskatchewan
Posts: 2,641
• Horses:
5
What color would he be?
---
This is a horse that I sold this spring.... I had him all his life so he was a special little guy... although it was a pain to keep him trim :P
The thing is, I don't know if he's a roan... or a grey. It boggles da mind.
Not that it matters... but I'd like to finally have a clue!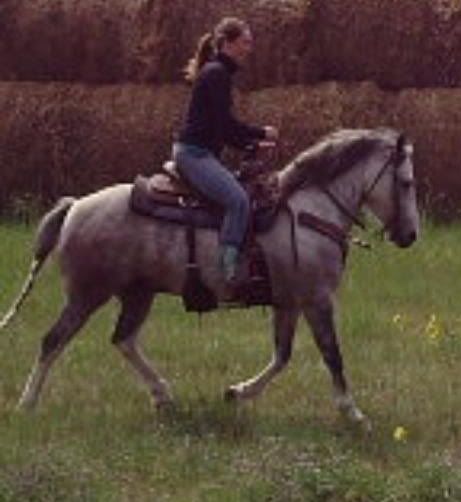 ---
Steel gray... Dapple. Nice looking horse!
---
100% Anti-Slaughter and PROUD of it!

Dapple grey. May turn fleebitten when he's older but not a roan.
---
"If a horse fails to do something that is because he was not trained to do it. If a horse fails to do something properly that is because he was not trained properly."
www.wildestheartart.com
Agreed, most definitely a gray.
---
Always remember that feeling of looking at a big, open country over the ears of a good horse, seeing a new trail unwind ahead of you, and that ever-spectacular view from the top of the ridge!!! Follow my training blog:
http://robertsontraining.blogspot.com/
ABSOLUTELY GORGEOUS!!! Im clueless when it comes to color classifications, but I can spot a pretty horse when I see one! :)
Grey! Pretty
Posted via Mobile Device
Banned
Join Date: Jul 2009
Location: In a land far far away, or so I wish.
Posts: 12,825
• Horses: 0
Not overly mind boggling. Gray.
Green Broke
Join Date: Aug 2011
Location: Middle of Nowhere, Saskatchewan
Posts: 2,641
• Horses:
5
He was a bay-ish roan when he was just a little guy, like 2 or so... and then he kept on getting more silvery....
---