What color would my Quarter Horse be called?
---
He's supposedly a 'dark' palomino. He's dark brown, but not a chestnut or bay, more like a taupe with regular palomino dapples, a dark brown dorsal stripe and his legs are black with taupe dapples. His mane is a translucenty white with enough gray to make it look literally silver. The pictures don't really do him justice.. And I'm really sorry if I mess this up it my first post!!!
WOW, not sure what colour he is, but he is gorgeous!! :)
My best guess would be Sooty Palomino! :)
Also, Welcome to the Forum! Nice plastic bags on the round yard too :) Great to desensitise a horse and make them quiet in my opinion
Palomino with sooty gene.
Posted via Mobile Device
Sooty palomino the dorsal is countershading
Posted via Mobile Device
---
Noey's Herd
Palomino with sooty,with the dorsal being caused by the sooty.

Did you just get this horse? If so, don't be surprised, he will more than likely have some pretty decent seasonal variation to his color.
I agree with anyone who says sooty palomino.... Shame it makes him so ugly, though : I think the best thing would be for you to ship him to Argentina where no-one will see him and he can live free from mockery with my four non-judgmental horses...
---
Four horses, two people. 4000km in to the South American leg of our trip,and now in Brazil. Drop us a line on
The Great Horse Trip
I'm gonna say dunalino with the sooty gene. He's gorgeous.
---
So in lies the madness, the pursuit of the impossible in the face of the complete assurance that you will fail, and yet still you chase.
Quote:
I'm gonna say dunalino with the sooty gene. He's gorgeous.
This horse is not dun. The dorsal is not the crisp dun dorsal but the smudgy type of dorsal caused by counter shading sooty. Also dun is a dilution it gives the coat a typical flat peachy dun color on the base it's on.
Dorsal on my dunskin to compare. Also notice the peachy color even though this horse is also cream diluted.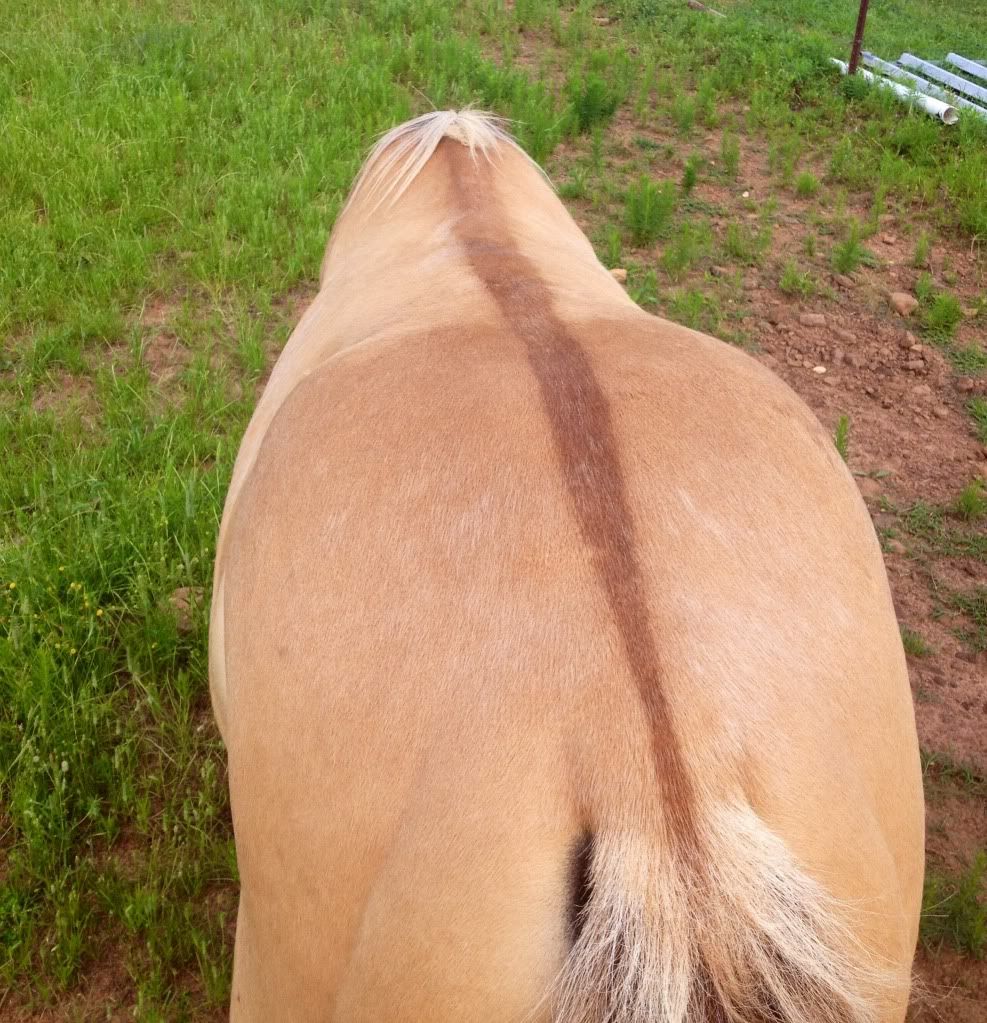 Posted via Mobile Device
---
Last edited by Peppy Barrel Racing; 06-27-2013 at

10:29 AM

.