What colour is my horse?
---
I've had much debate over the colour of my horse - people tell me he is chestnut, liver chestnut, flaxen chestnut and some people say he is bay; another even said that it has been died that colour
I'm leaning towards liver chestnut, but all posts I've read about liver chestnut say the mane and tail have to be darker than the body - is this true? If not what colour would he be and would his genetic code be the same as that of a regular chestnut (ee/aa - around that anyway) ? Any help is appreciated! :)
Here are the three clearest pictures I had:
I would say liver chesnut.
Equine Color Genetics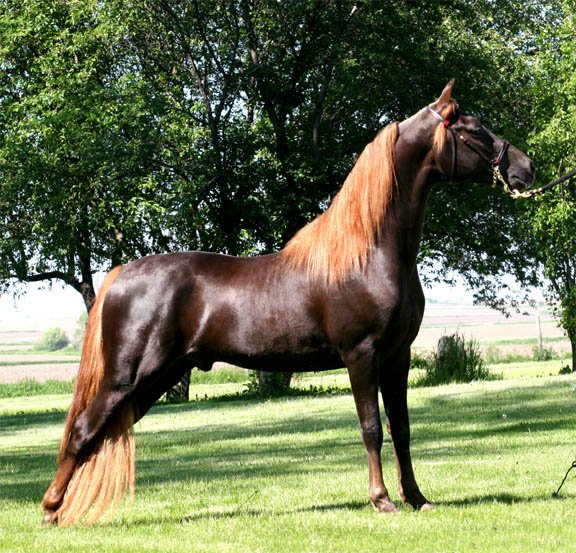 ---
So in lies the madness, the pursuit of the impossible in the face of the complete assurance that you will fail, and yet still you chase.
Another vote for liver chestnut.
He's gorgeous.
Posted via Mobile Device
He has to be one of the prettiest horses I have ever seen! I love the color of his mane.
Liver chestnut. Very pretty boy.
---
You want the truth? You can't HANDLE the truth!
Liver chestnut.
---
If you ever find yourself in a fair fight, it's because your tactics suck. ~ Marine 1SGT J. Reifinger
He definitely looks liver chestnut. A picture that shows his lower legs would clear it up completely - a red based horse would get paler right down on the coronet band at the very least.

Genetically, there is no difference between the shades of chestnut that is known to us at this point. So yes, he would be e/e. As for his agouti status, being red based, agouti does not act on his coat, and so any guess as to what genes are present is merely a guess and not an educated one at that.
---
Mods, grant me the serenity to see the opinions I cannot change, courage to change the ones that should change, and the wisdom to spot the trolls.
Beautiful horse!
Posted via Mobile Device
Liver chestnut
The mane & tail don't have to be darker. Liver chestnut is the same (genetically) as any other shade of chestnut/sorrel, and all of those can be modified with flaxen, which lightens the mane & tail.