What type of chestnut is this?
---
Joined the forum to try and find out what type of chestnut my gelding is.
He is a tovero so only have patches of chestnut but in them i have noticed -
smudges of light and dark
dapples
darkness down front leg
mix of coloured hair, almost creates a brindle look
one patch is fairly normal chestnut but the next patch is completely different shade etc
Also his forelock is a mix of about 3 or 4 different shades
His dam was a bright bay tovero (with black dorsal stripe) and his sire was a chestnut tobiano (i believe)
Here are a few photos to show what i mean
Notice the uneven neck colouration, blotchy looking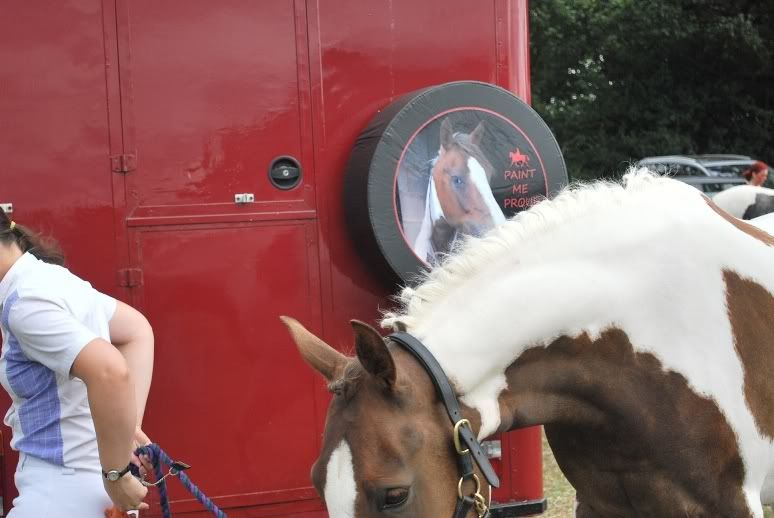 Check out the dark patch on his front leg and the dappling/shading on his patches (none of them are caused by lighting shadows etc)
Most chestnuts i have seen are a pretty uniform shade all over, even with some dappling, but Chico really isnt!
Any ideas
Any ideas?
He's just a chestnut. Nothing special, sorry. There's a QH gelding at my barn that's similarly colored, with the sort of splotchiness.

Dapples are the sign of a healthy horse, though.
A very very very handsome one! I am obsessed with paints yet I have a forever changing color bay.
---
Your horse is an extension of you.
Agree with Po, he's a pretty typical chestnut color, though a gorgeous horse. He may or may not have a bit of sooty/smutty working there, but still just a chestnut.