Quote:
Snip fail. Haha! Yeah, maybe. I saw somewhere that you've been around a lot of appaloosas, Faceman, so now I don't feel bad that nobody I've met around these parts has seen anything like her nose, since you haven't.
She does have other appy characteristics. White sclera, mottled skin, striped hooves, short, coarse mane and tail.
She's a red dun, too, so she's unusual, to say the least.
I've only had her for two years and don't know her background. The lady who my barn mgr. got her from for me had only had her for a few months. Never considered that it could be from an old injury. The skin looks good under it. I know she has the scar from an old halter injury ??? up higher on her nose.
Anyhow, here are a couple of other pix. In the one where she's sticking her nose in the camera you can see the mottled skin in her nostril.
She definitely has Appy characteristics. The white spotted nose is actually quite similar to the mottled color a leopard ("near leopard") gets when the base color begins breaking up and transforms to the leopard white with spots, however I have never seen it happen on only the nose/face, and certainly not on a horse that old.
Below are a couple of examples - my stallion Chip whose face is about 75% colored out, but still shows how the base color is gradually mottling away, and Rambo, one of my foals, who is just starting to color out in the face...notice how the farther back you go the more mottled his base color is - Appy coloring normally moves from rear to front. Again though, this happens at a younger age - not like in your aged mare. So, I don't know - could be Appy color that has come out, but my best guess is as others have said it is the result of a fungus, or perhaps insectc stings or bites, or even a snake bite - something that has destroyed the original hair, and being an Appy, it would not be unusual for it to grow out white...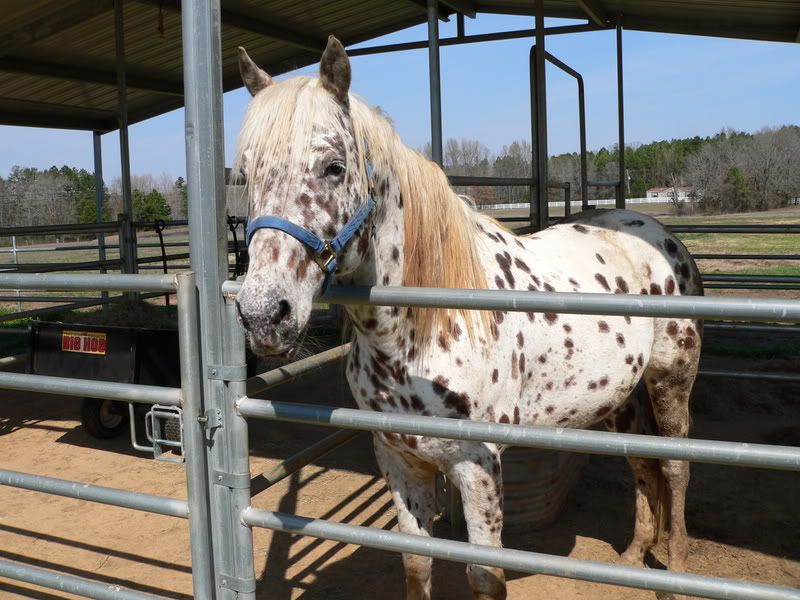 Hmm. All very fascinating, Faceman! Here's a flash pic of her last summer. Her "freckles" sure do look a lot different when she's shed out. I'll have to watch how they change. Geesh. I kinda hope it's an appy thing and not a past infection thing.
Here's another interesting link about odd patterns of white spots possibly related to past environmental skin issues, too...
White markings and fungal infections « The Equine Tapestry
Thanks! Me, too. Journey and I plan to grow old together. She's easy to spot in the pasture with her funny freckle face, even at a distance.
Wow..those are such unique markings! She is a cutie :)